Our favourite animation projects are those that are open to creative storytelling. Storytelling is the heart of an engaging video, and is more important than the style of illustration, the background music, or even the complexity of movement or transitions.
Collectively, our team has over 20 years of animation experience. Our explainer videos have been seen on television, in online campaigns, in public education spots in Canadian theatres, and featured in the Smithsonian's short film festival.
We've helped explain complex chronic conditions, climate and environmental strategies, and even translated five hours of audio recordings from conferences into succinct 5 minute videos.
We offer a range of animation styles, including: whiteboard videos, chalkboard videos, stop-motion animation, and 2D animation / motion graphics.
Have questions? Check out our FAQ page, and learn more about the process of developing an explainer video:
The time it takes to produce an explainer video varies depending on:
Length of the video

Videos are best kept in the 2 minute range for optimal viewer engagement; however, longer videos may be appropriate for educational purposes.

Style of animation (read more about different styles)

Simple whiteboard videos may be quicker to produce than more detailed and eye-catching animation styles.

Number of revisions needed during each stage of production (and how quickly feedback can be provided)
On average, a 2-3 minute explainer video may take 6-8 weeks from initial consult to final animation, depending on the factors above.
Every video starts with an initial consult to identify:
– The target audience for the video and the best way to engage them (humour? really unique animation? personal story? etc)
– Core messages we need to convey
– Desired length of the video. Videos are best kept in the 2 minute range for optimal viewer engagement. However, longer videos may be appropriate for educational purposes
– The plan for using the video and strategies for getting the most value out of it (for example, producing shorter clips for social posts, options for keeping the content current, using the images from the video in other materials, etc)
– The budget and what we can do within it
– Whether a video is the right format for your content and audience. Sometimes an infographic or other visual tool may be more effective
Depending on the complexity of the content, we may also have a live whiteboarding session on Zoom to map out visuals and themes together.
The script is the backbone of the video, and is an important step in video production. We can work from a draft script that you've written, or we can write a script from scratch based on background information you provide.
The script outlines what is narrated, and also includes notes on potential visuals or concepts so we can start visualizing together what the video might look like. Over a series of revisions, we refine the script with you until it's just right and ready for storyboarding.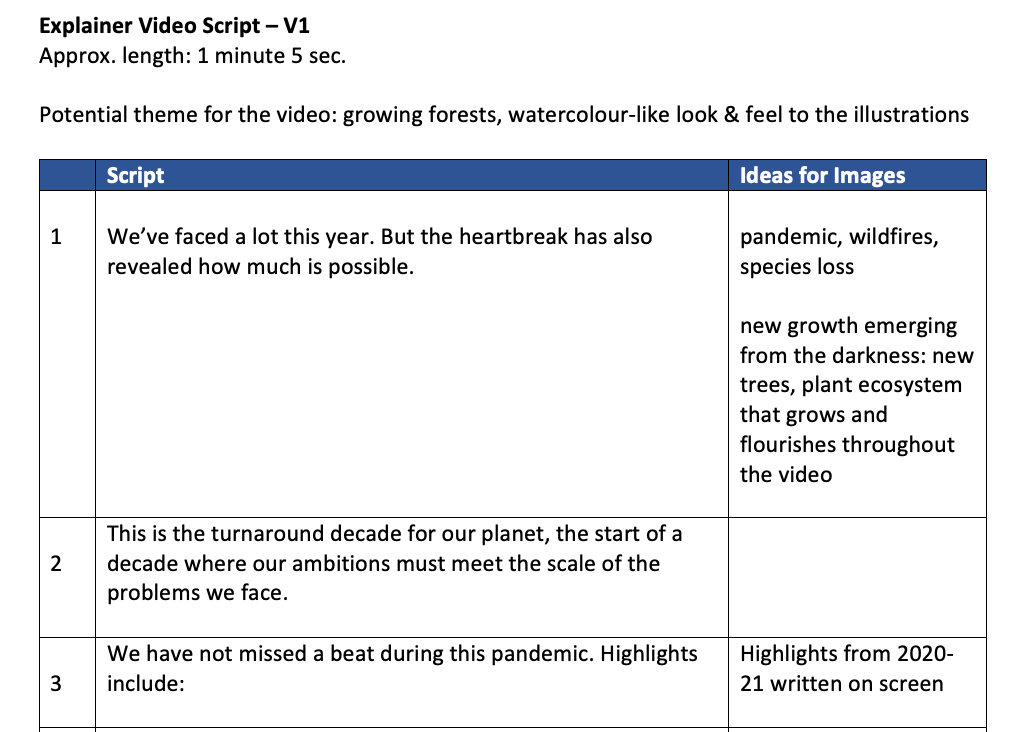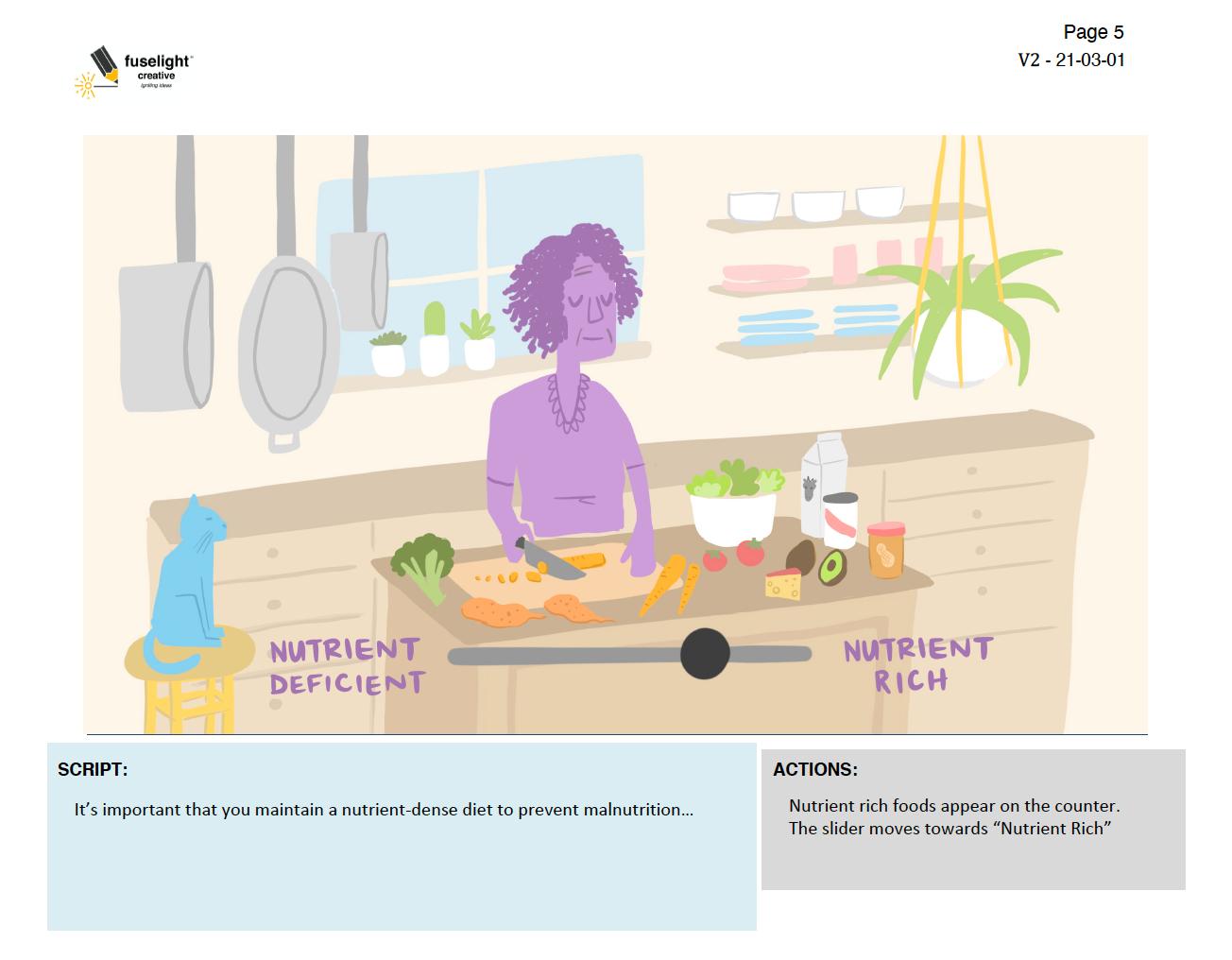 During storyboarding, each scene is illustrated and matched with the script, along with notes on actions, transitions, or sound effects. We don't use any stock visuals or re-use images between clients — everything is custom illustrated to your unique story.
During rounds of revision, we edit the illustrations and overall layout until it looks just right because the storyboard is our road map for the animation.
After the storyboard is approved, the illustrations are brought to life during animation and matched with voice over, music, and sound effects. Animation is the most time-intensive stage, but if we've been thorough during storyboarding, we'll have a clear road map to follow.
Fuselight can provide voice over in-house, or we can source an alternate voice over artist if there is a specific tone you're looking for.
When we've put the final polish on the video, it's delivered to you in 4k or whatever resolution you need. We also share tips for using the video, such as strategies for generating online discussion when sharing the video, providing you with the JPEG images from the animation to use in other materials, and options for shorter video clips or segments.