Journey mapping (or "patient journey mapping") is a facilitated process for understanding the challenges and opportunities people experience in a service, program, or system. The "patient" or "client" is central to mapping: these are the only people who have a full perspective on the entire journey.
People ("patients / clients") share their perspectives and the map is composite of those qualitative experiences and serves as a narrative journey for facilitating better understanding of people's lived experiences. We can also layer data on the completed map to deepen learning (either directly on the map, or as a "hidden" layer of information that appears when the viewer hovers over different sections).
We have mapped complex journeys through cancer care, mental health & addictions, Indigenous wellness, opioid treatment, COPD, outreach services, severe asthma, ER discharge pathways, and detailed IM/IT data pathways, among many others.
As the majority of our Journey Mapping work is not released publicly, below are select samples we are able to share. If you are interested in collaborating on a journey mapping project, we are happy to share redacted versions of maps our clients have granted permission to share on a limited basis.
Journey maps are a concise overview of the patient experience. The map represents what happens "on average" in a journey through the service, and this may be for a specific population, age range, diagnosis, or lived experience. Journey maps are a baseline from which to overlay different variations of the journey, inform changes, or identify areas that need deeper exploration.
The map places the client experience front and centre; the experience is not buried in pages and pages of surveys, quotes, or hidden in data. Additional layers of data or references can be overlaid on the map, so it's a blend of both qualitative and quantitative information.
A range of people will find value in the map: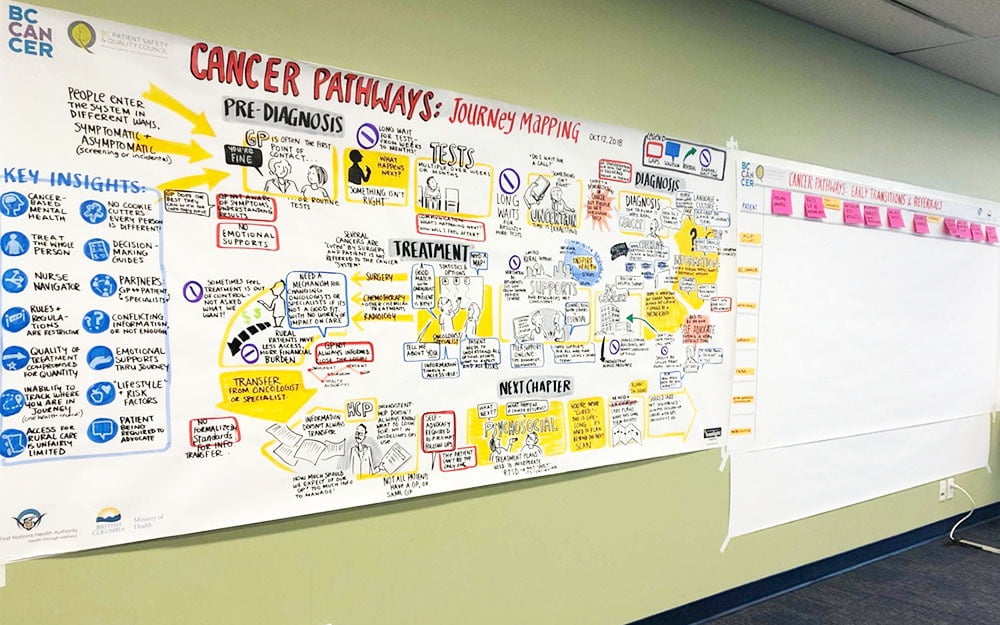 Decision makers and managers
The journey map provides decision makers with a big-picture perspective on the patient / client experience to help identify service improvements, or advocate for programming or funding from boards. The map is an educational tool for those who are not familiar with the complexity of the journey. It can also be brought to team planning meetings to anchor the discussion in the patient / client experience.
Frontline staff
Depending on their role, frontline staff may only interact with the patient / client at one touchpoint in the journey and might not have a full picture. A journey map helps people see the full experience and think about their role in the bigger picture.
The public
Journey maps are an educational tool. The more people who are informed on the client experience of care, the better able they are to advocate for themselves or their family members if they start the journey. Public empathy and support for improving the client experience helps build resiliency against program cuts.
There is no "one way" to journey map, however, there are best practices. This is a high-level summary of the pathway most journey mapping projects follow:
Identify the Scope and Purpose

What are we mapping and why? How will it be used?

Roles and Collaborators

Who should we partner with so the journey mapping is successful? (for example, when collaborating with Indigenous perspectives, it's best the session is lead, co-designed, and hosted with Indigenous partners)

Format and Design of the Session

What's the best way to bring people together? (one group session vs. multiple vs. surveys?)
Agenda design: How will the graphics facilitate dialogue? What's the right structure for the map?
Coordinating supplies, tools, resources

Running the Journey Mapping Session

Roles in the session & working as a team
Building the map, review & feedback process
Keeping people informed & involved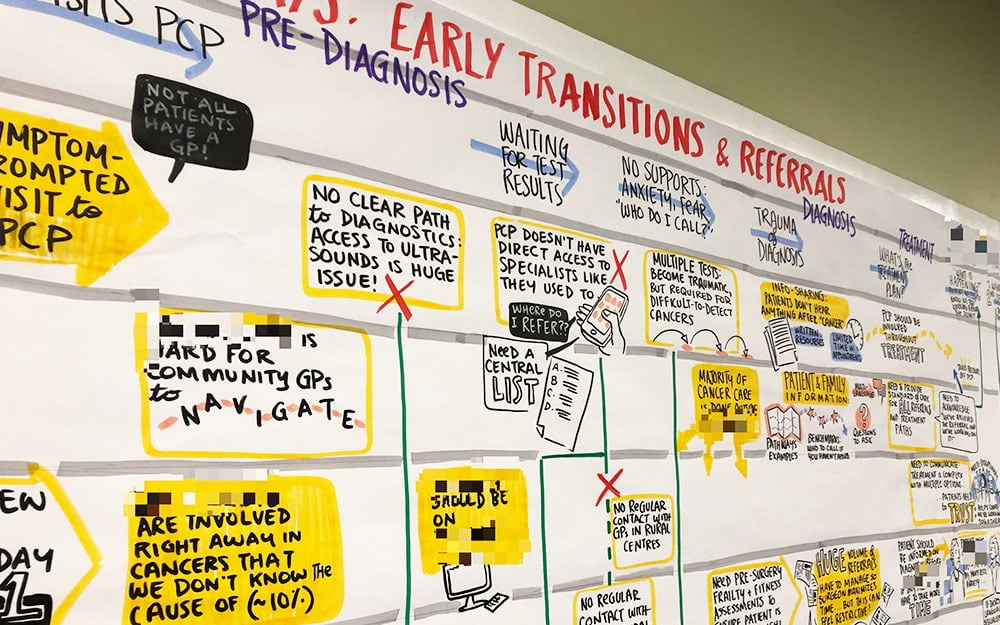 Process for Building on the Map(s)

Defining next steps and a strategy for how the map(s) might be used
Designing how the map will facilitate dialogue with clinicians or other patient groups
Layering additional information or data links on the digital map
Advice & Support for Journey Mapping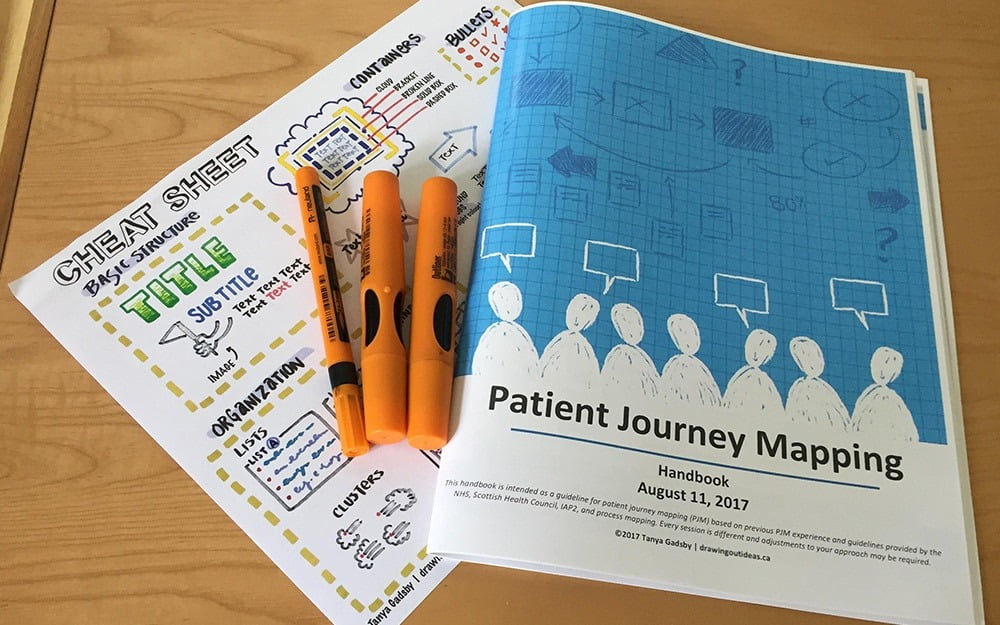 Every journey mapping project we are engaged on is provided with a comprehensive 30-page journey mapping handbook that has resources and tips for running sessions if you are not able to work with a professional graphic facilitator.
We are also available to advise on journey mapping projects, whether they are in early stages, underway already (and you need tips or advice on anything you're struggling with), or you have a completed map and need advice on how to use it.
Contact us for a quote for advisory services for journey mapping.