[mkd_dropcaps type="square" color="#ffffff" background_color="#282828″]I[/mkd_dropcaps] was graphic recording at a recent scientific research conference and a woman remarked to me: "How do you know what to draw? You must really know our industry!"
It's a question I'm asked often — how do I choose the right images? How do I follow along with a complex industry discussion? What if I offend someone with what I've drawn?
Research
There's a school of thought among some facilitators that it's best to go into a meeting "knowing just enough to be dangerous." In other words, doing just enough research before a meeting to have a basic understanding of the topic. All meetings are pretty much the same, right?
Knowing "just enough" before going into a meeting is like an architect knowing "just enough" about a company's needs before designing their building.

Prior to a full-day meeting I spend 2-3 days researching the topics being discussed and the people in the room. Having a fulsome understanding of the discussion topics allows me to move quickly with the discussion and make connections between ideas when I'm graphic recording. I'll have a strong sense of what stakeholders are struggling with and what their goals are.
Research also ensures I understand the industry terminology (especially if it's a technical conference for engineers!). The graphic recording should be an authentic reflection of the industry and work, so including accurate imagery and knowing how to spell specific terms and acronyms makes a difference in people connecting with the graphic recording.
Cultural Sensitivity
Every organization or community has a culture and I adjust my graphic recording to align with it. Often this means working closely with the meeting planner to understand their organization's culture and what may or may not be appropriate to draw.
For example, I worked with an environmental organization that uses a lot of data and statistics to back up their work. They needed a graphic recording that was accurate, in a straight-forward layout (see "Layout Preparation" below), with clear text and not too image-heavy. This isn't an organization that would respond well to a graphic recording that is whimsical or overly playful — it's not their organizational culture.
I've also been honoured to work with many BC First Nations (Haida Nation, Tk'emlúps, Kitsumkalum, Hagwilget, Gitanmaax, to name a few), and it's important to respect that each community has their own unique culture, perspective, and history. First Nations art and storytelling is very visual, with an emphasis on metaphor and respectful listening. Graphic recording at its core is about listening and reflecting on a discussion, and using metaphor (often nature or land related for First Nations discussions) to amplify ideas.
Layout Preparation
The final cornerstone in preparing is the planning of layouts for the graphic recording. This is especially effective for strategic planning meetings where the group intends to develop a vision, values, or action plan. Utilizing a layout to help guide the discussion helps ensure that graphic recording is a core part of the process. I work closely with the meeting facilitator to ensure we are using a layout that will work well for the group and the facilitator's style.
It doesn't make sense to choose an abstract or creative layout for a group that is logic-minded and linear. Likewise, it's best to utilize a free-flowing layout for more creative groups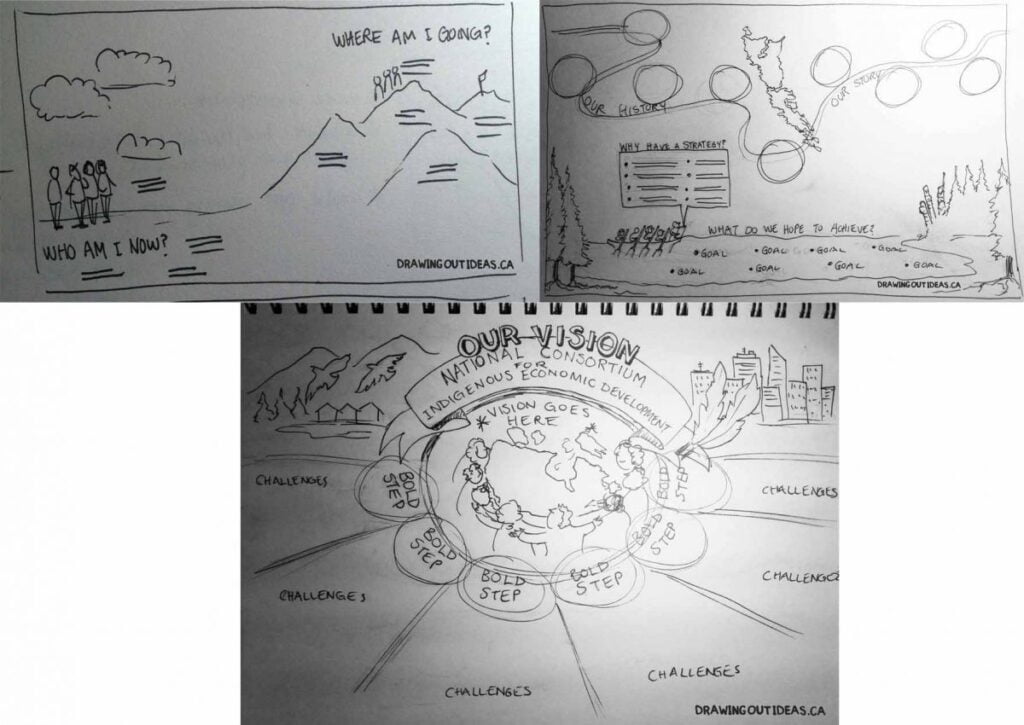 Thorough research and preparation helps ensure the graphic recordings are authentic to the group and their discussion. But it's also important that I remain flexible to the needs of the group — all the planning in the world doesn't help if I don't change a layout on the fly if the group shifts direction. These aren't my graphic recordings, but rather the group's creation.