Strategic planning is a complicated process that takes time and deep discussion. It's not easy for an organization or company to step back from itself and see the big picture or grapple with intangibles like vision, mission, and values. This is why developing an overarching metaphor to frame the discussion can be so effective.
Stories are the most powerful form of communication and learning. We surround ourselves with stories: blockbuster movies, novels, news articles, plays. The most successful movie franchises all have a powerful story at their core (Star Wars, Harry Potter, Toy Story). And it goes beyond entertainment – stories allow us to step outside our day-to-day lives. They teach us about ourselves and open our minds to new perspectives.
Re-framing the work
It's not easy to reflect on a company's challenges or opportunities when you're working day-to-day "in the trenches."Metaphor frames the strategic planning as a story and allows people to take a step back and gain new perspective. It's a neutral and safe place to have tough discussions.
For example, mountain climbing is a common metaphor used when graphic recording a strategic session. What small peaks can we reach on the way to Everest? What tools and climbing gear are needed? Who is leading us to the first peak? What are the avalanche conditions and how can we prepare for them?
Example graphic recording using mountain metaphor (confidential information has been removed or blurred).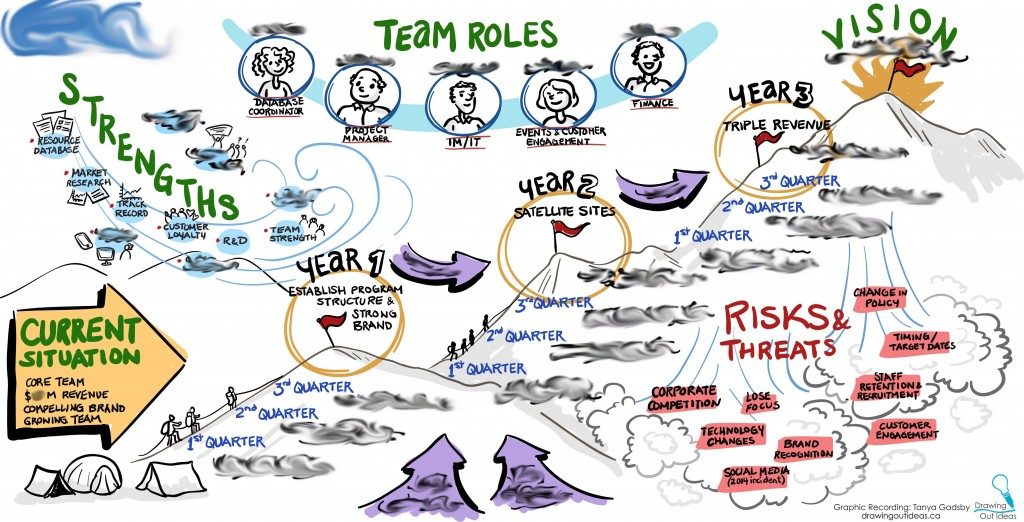 Tailor to the group
Some people may be skeptical of framing the work in this way – they may feel it's juvenile, a waste of time, not the "real work." Of course, metaphor can be overused and it's important to strike the right tone with the group you're working with. Some groups are more receptive to working this way; others prefer a lighter touch of metaphor. However, the power of metaphor is undeniable. It's a non-threatening way of assessing a company's strategy and it's surprisingly effective at pulling the nay-sayers into the discussion.
Anchor the intangibles
Finally, metaphor anchors intangible items like mission, vision, values, and quarterly actions into an engaging visual that everyone is more likely to review in future. It allows people to see interconnections between team members, how resources support the yearly goals, and gets people excited about their work.
I've used a variety of metaphors in graphic recording – from the traditional mountain climb, to canoeing down a river, space travel, sailing, and building a house… just to name a few! Try it at your next meeting and see how metaphor can transform strategic planning.