Meetings can be host to a large number of participants from various industries, backgrounds, and perspectives… how do you encourage people to engage with the topics being presented instead of being idle observers? How do you capture the thoughts of 200+ participants? Or 400+?
Graphic recording enhances meetings in many ways – from capturing speakers' presentations to designing custom graphics to help guide a discussion. But interactive graphic recording can directly engage participants and capture their ideas, impressions, and reactions to the conference!
Gathering Group Ideas
This spring I was invited to Toronto to graphic record IBM's conference on HR and the Cognitive Era. With three hundred participants, IBM wanted to gather key themes and ideas on this "new age" of business – how artificial intelligence influences work in HR.
We set up the engagement graphic recording in a common area where people could reflect on it over coffee and lunch.
Throughout the day, participants submitted their ideas on a note card, which were then sifted through and organized into key themes. We weren't looking to capture every last comment, as many ideas overlapped or could be consolidated into one. Over the course of the conference, the interactive graphic recording was populated until we had a clear overview of people's thoughts!
Graphic recording by @drawingoutideas: How does cognitive HR change the purpose of your work? -AG #HR #PowerUpHR pic.twitter.com/tEYkgN5xLa
— IBM SmarterWorkforce (@IBMSmtWorkforce) May 17, 2016


Hands-On Approach
Pretio Interactive is a Victoria tech start-up known for their innovation and creative approach to work. Last summer they hosted a networking event, Spring Into Start-Up, for the Victoria tech sector; about ninety people from various tech backgrounds were invited.
Pretio approached me about having an interactive graphic recording… something people could physically touch and engage with while showing the "big picture" of the local tech scene. Our hands-on approach was a huge hit!
Each attendee first took a polaroid of themselves (holding their favourite tech-themed object!).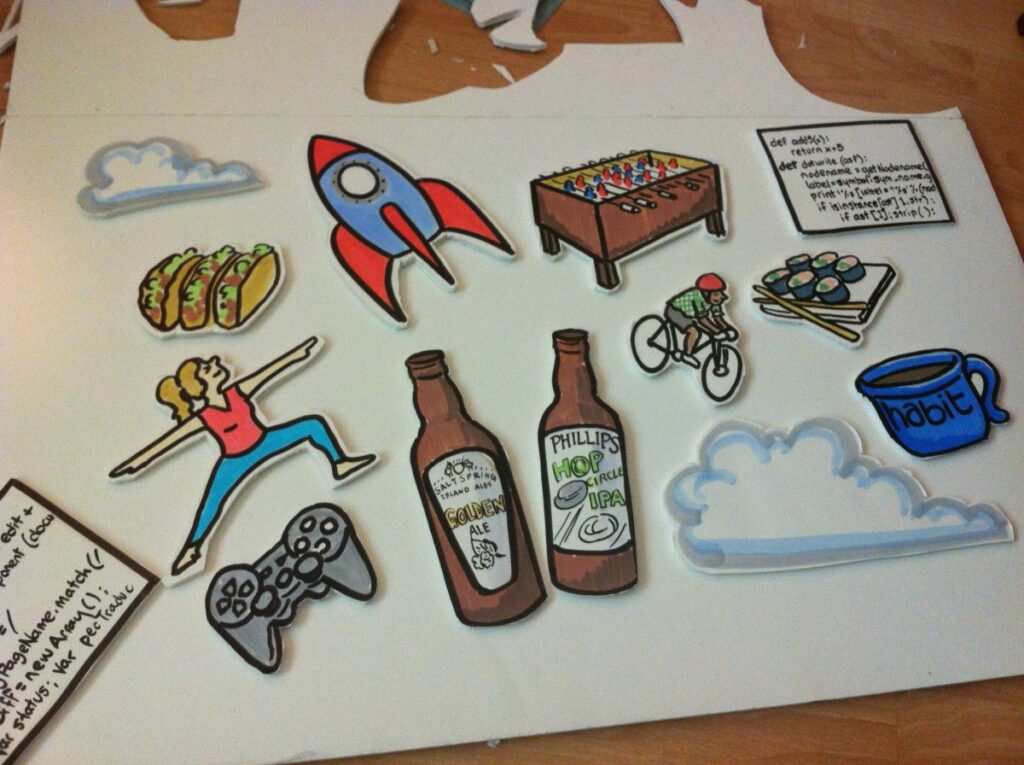 Foam core cut-outs of various tech objects or passions being prepared for the event.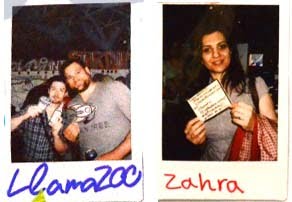 Polaroid portraits were attached to the graphic recording.

The polaroids were then attached to the border of the graphic recording and ribbons were used to connect the person to different parts of the tech landscape.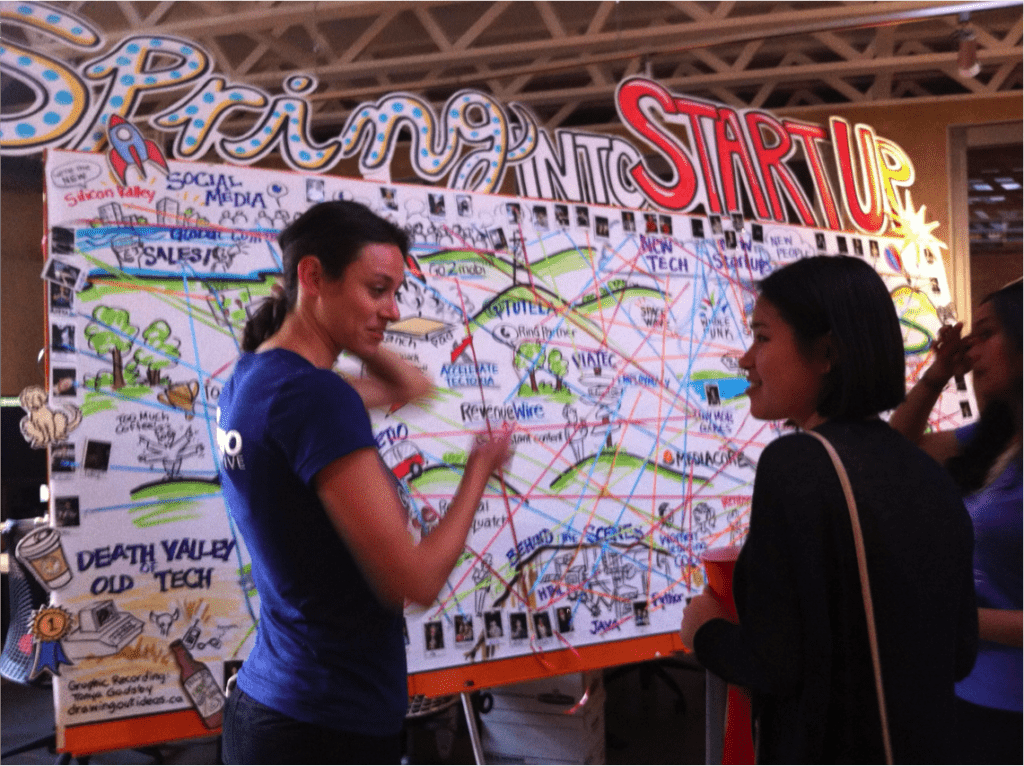 The resulting 4ft x 10ft graphic was an impressive perspective on the tech landscape. People were excited to see how their ribbons overlapped and sometimes surprised by who shared their connections. A true networking event!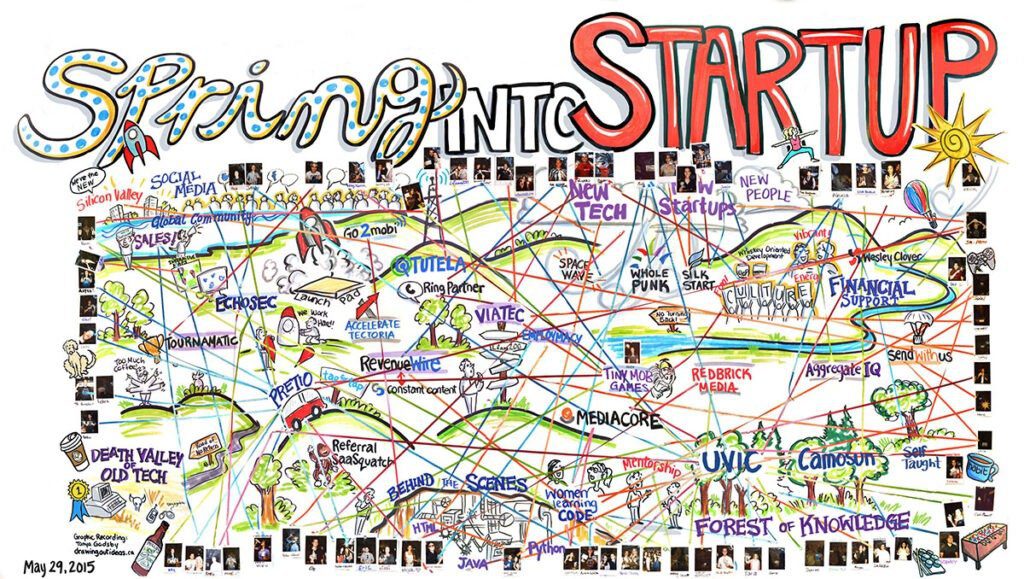 Interactive graphic recording for Pretio Interactive. 70+ people connected themselves to the tech start up scene in Victoria, BC
(I was also honoured to be selected by Tectoria as "Tectorian of the Week" for my work at this event!)
Tips for a Successful Interactive Graphic Recording
Prepare prompt questions in advance — "what excites you about ____?" "what are you concerned about?" Know what information you want to gather from people and have these questions displayed on the graphic recording or on a sign board next to it. This helps focus participants when you want to curate feedback from a broad audience.
Assign a Helper — the graphic recorder's strength is in synthesizing the information and organizing it into engaging visuals. At large events, assigning someone to help drum up engagement from the passing crowd is essential in getting people sharing ideas or interacting with the graphic recording so that the graphic recorder can focus on building the visual. People tend to be hesitant until asked for their thoughts, so assigning someone to help "pull" them in is key!
Location, location, location — ensure the graphic recording is central to the gathering. Don't position it in a side room or low-traffic area; make it easy for people to access it and to view it from afar, which helps spark curiosity and draws people in.
Bold is Beautiful — a big title, large imagery, and vibrant colours all help the visual stand out in a crowded space and helps draw people in.
These are just a couple of examples and tips of how graphic recording can be a central engagement piece at your next event. It encourages people to share their thoughts (instead of being passive observers!) and empowers everyone to share their ideas.