Graphic recording delivers the most value when we incorporate an interactive component for participants in your conference. Rather than just being a "pretty picture," interactive graphic recording becomes something the group directly contributes to and builds. It makes a tremendous difference in people feeling ownership for the graphics, and the graphic recording will be more authentic and capture everyone's voice. Interactive graphic recording can be as simple as providing an opportunity for people to add their ideas on sticky notes, to more fulsome engagement through group builds and three dimensional displays!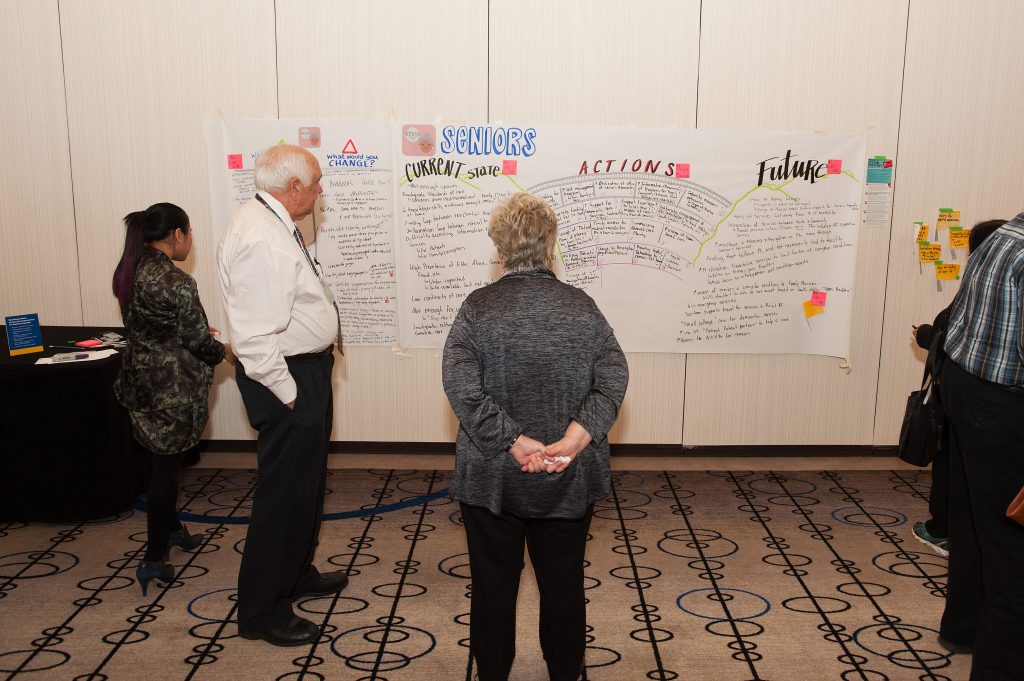 Sticky Notes for Audience Feedback
During a conference, each presentation is graphic recorded, and the completed graphics are displayed in a common area so participants can do a gallery walk. Post-It notes are provided next to each graphic recording so people can add their thoughts to the graphics – such as what resonated with them, what is missing or needs to be added, etc. These insights are then incorporated on the graphics.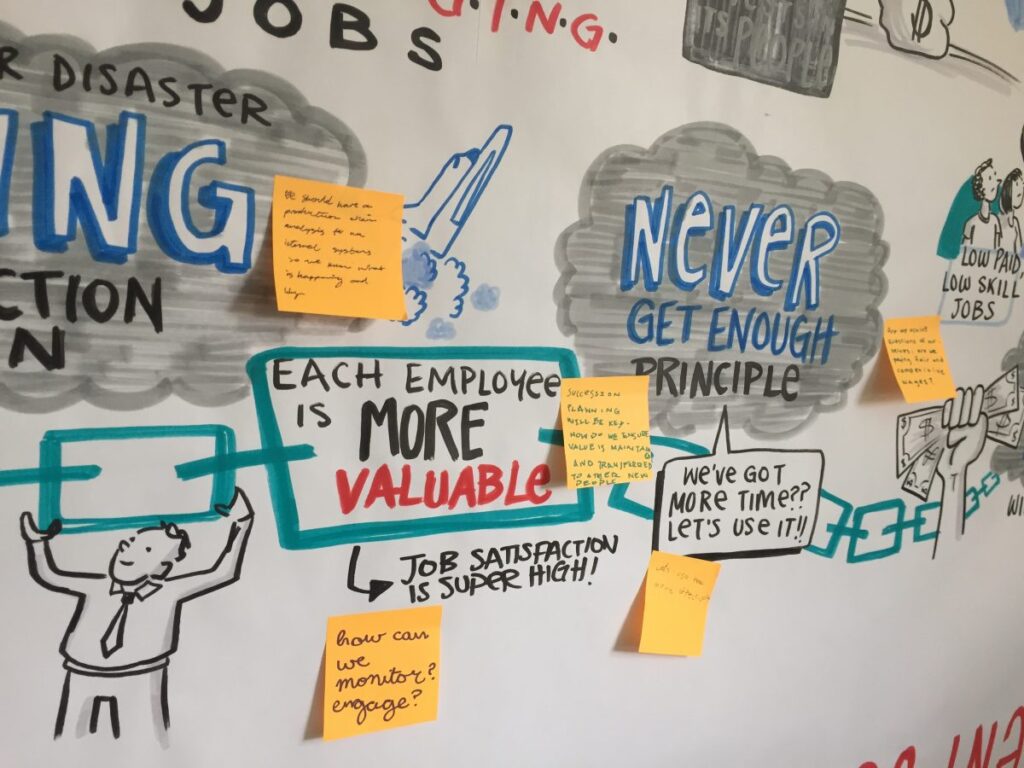 Flag Voting
An alternative to dot-voting, coloured flags can be used for quick identification of a group's priority areas (ranked 1, 2, 3) on a graphic. The flags are easily re-positionable.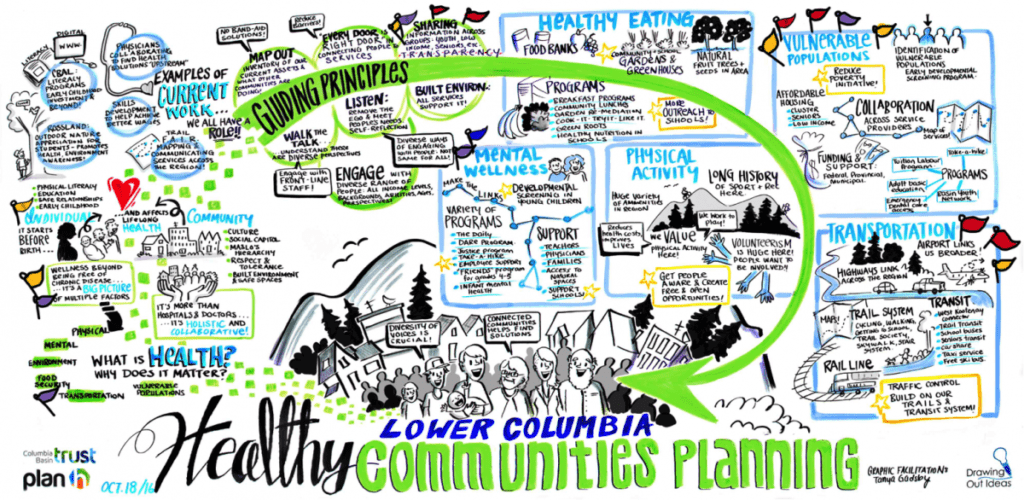 Visual Templates
Visual templates are particularly effective when you have breakout groups having simultaneous discussions. A visual template will help keep groups on task while allowing them map their ideas visually. Check out our previous article about how visuals can facilitate strategic work.
Below is a basic visual template for plotting quarterly action items. Visual templates are also effective when your budget doesn't cover a graphic recorder for the entire conference –a visual template (large scale) can engage the group in visual thinking without a graphic recorder present.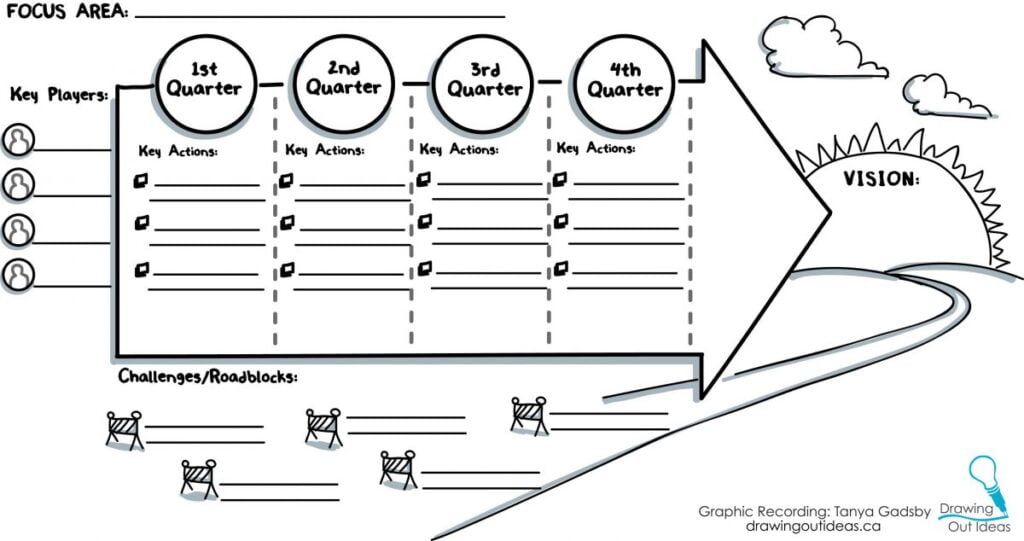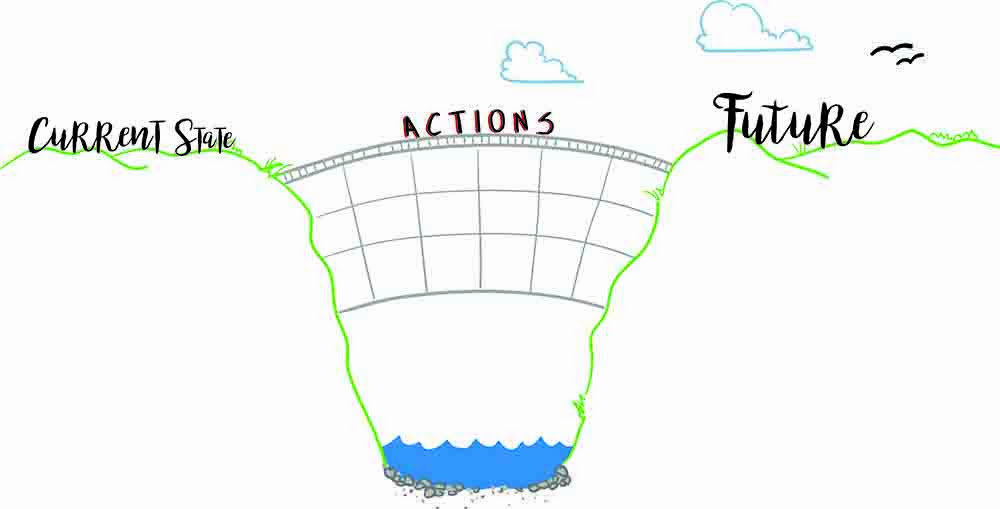 A simple "Bridge" template is effective for focusing group discussions.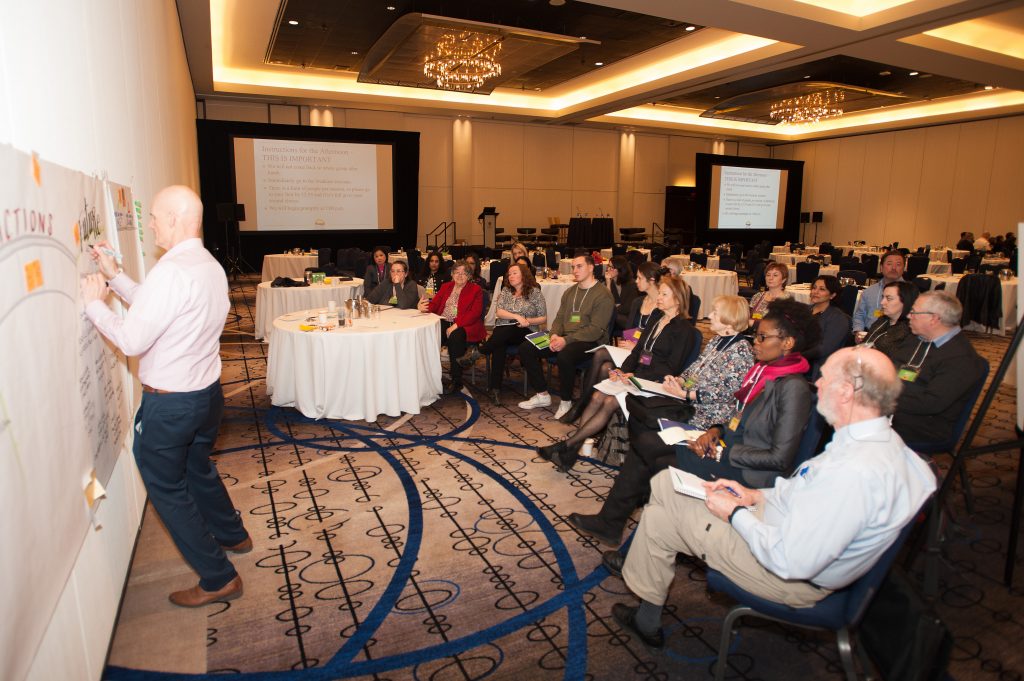 The "Bridge" template in action at a patient engagement conference. (Delaney & Associates)
Group Build
A Group Build is a great way to wrap up a conference discussion. In the example below, each participant was given a section of the black and red arrow, which was made out of foam board pieces. Participants wrote one major "aha" moment from the conference on their piece and together they built the arrow. (confidential information has been removed) This can also be done as a pathway, a large mural, or an organization's logo.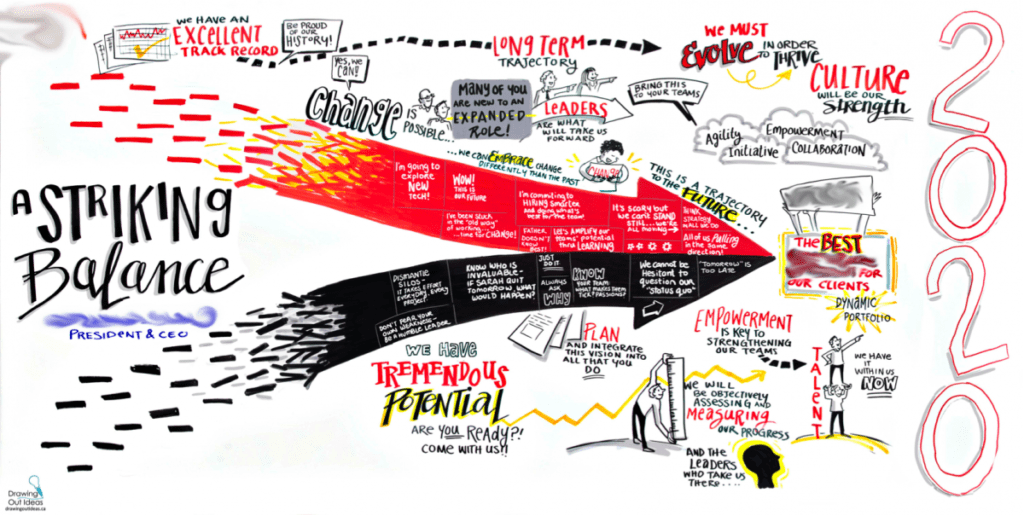 At another conference, we designed a pathway out of foam board puzzle pieces. Each participant wrote their "aha!" moment on a puzzle piece and built the pathway together.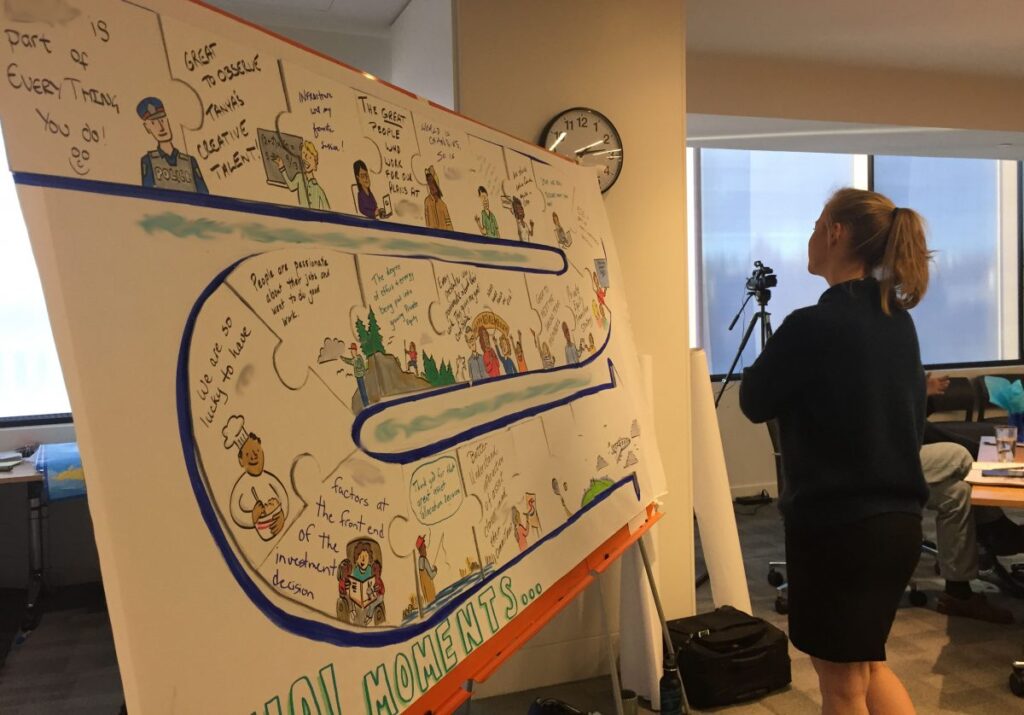 (confidential information has been blurred)
Another style of Group Build is creating a box wall. Each break out group or participant is given a large white box (these can be found at most shipping or postal outlets). The box might have a prompt question, or groups might be asked to narrow down their top priorities, which are then written on their box. When each group is ready to report out, the boxes come together to form a "big picture" – below is a sketch we drew up for a box wall at a conference.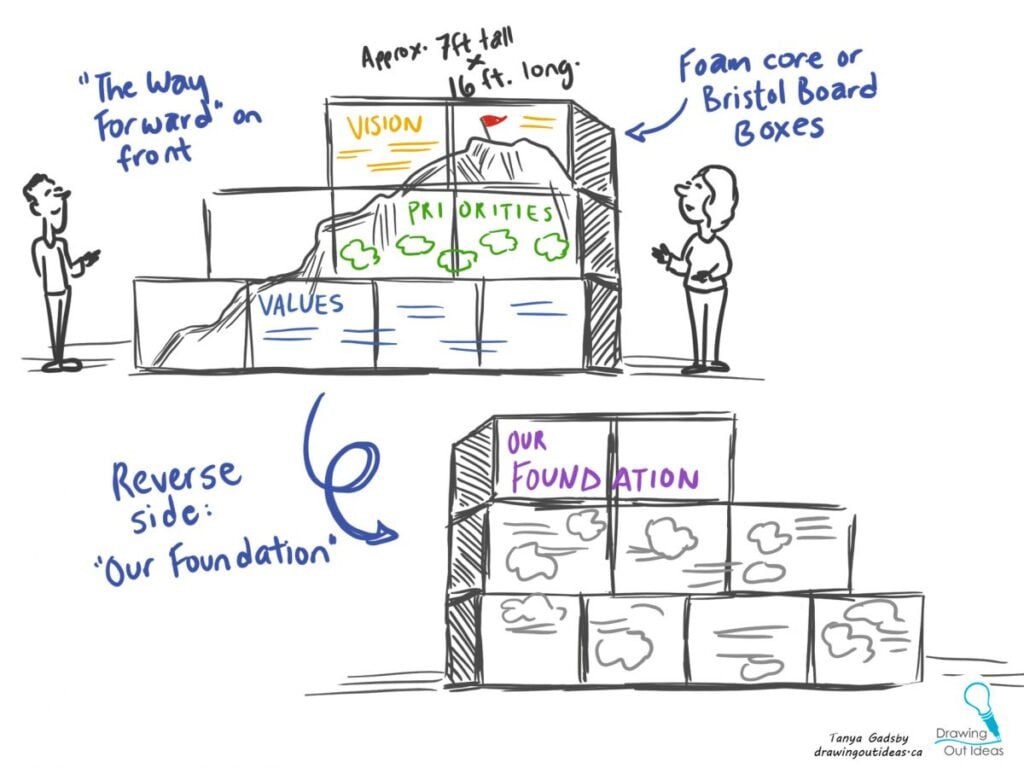 Interactive Group Work
Breakout group work can be greatly enhanced by using visual templates and other interactive components. In the example below for Vanderbilt University, we designed work boards for each group to organize their plan of action. Groups used different visual templates and materials (sticky notes, flip charts, "wrenches" for things to watch out for, etc). Feedback from participants was that "this was the most engaged we've ever been in breakout group work" and that "graphic facilitation enhanced our brainstorming immensely." Vanderbilt University has repurposed the graphic materials we designed at other workshops.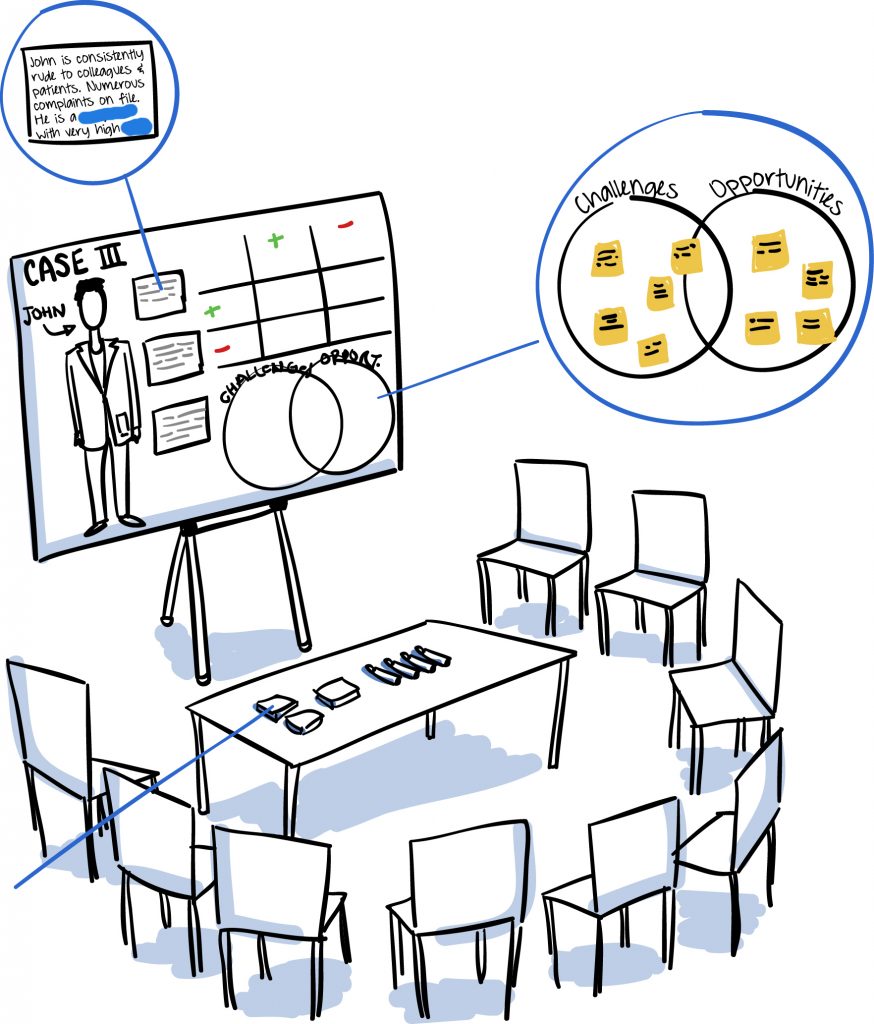 A sketch mock-up we provided to the client prior to the conference to show how graphic elements would be used in breakout groups.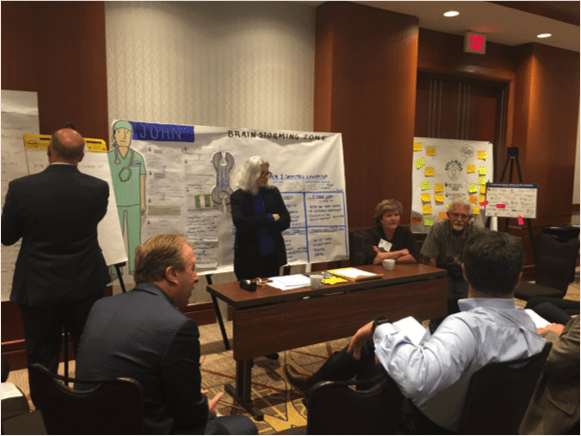 Breakout groups using a brainstorming board and other graphic elements
Creating a Network
When you're bringing together a diverse range of people and want to demonstrate connections in a big picture, a network diagram can be a great icebreaker and is a fun hands-on activity. In the example below, ribbons were used to connect people (each person snapped a polaroid selfie) to the "landscape" of local tech start ups. Large icons out of foam core were fun elements to take selfies with.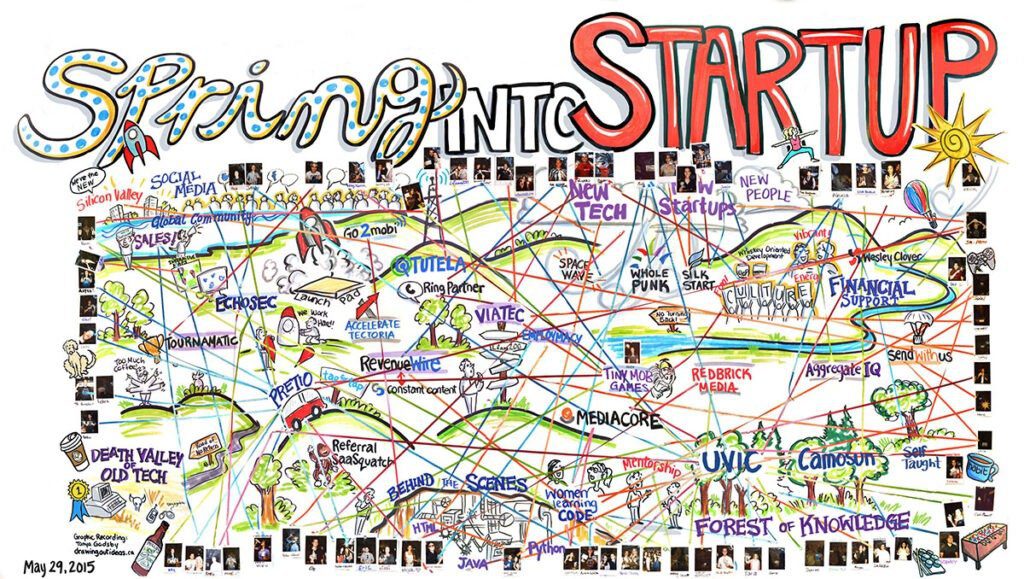 Interactive graphic recording for Pretio Interactive. 70+ people connected themselves to the tech start up scene in Victoria, BC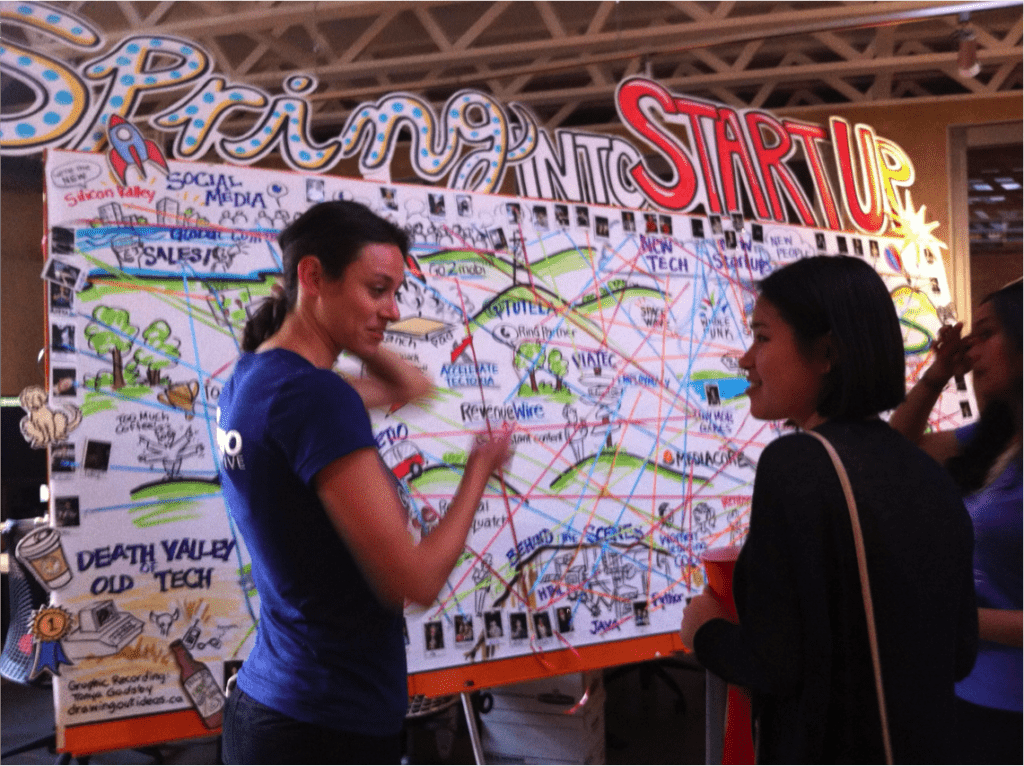 Timelines
This is an interactive way of plotting an organization's history. It can be an ice-breaker, a way of acknowledging previous work, and future-looking. We start with a blank graphic with a few milestones populated, then have the group fill in the timeline with significant events, projects, when they joined the team, etc. The timeline is then populated with graphics and filled out into a cohesive mural.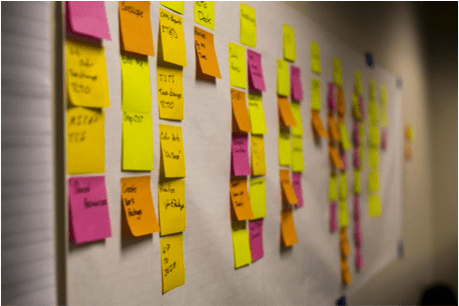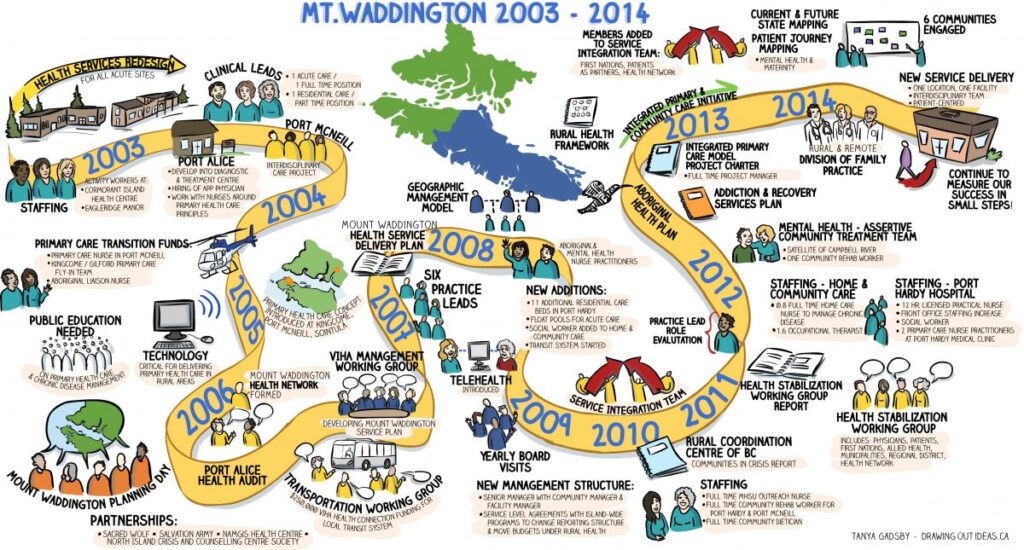 Timeline graphic of an organization's journey
Knowledge Walls and Talent Walls
A Knowledge Wall is ideal when you have a large multi-day conference or event and you want to create one large mural of participant ideas, key points from presentations/keynotes, and questions that people are asking. Participants are invited to drop by the Knowledge Wall throughout the conference, and we draw out their ideas in real-time. Many people circle back to the Knowledge Wall multiple times throughout the conference to see how it's evolving — it's a truly impressive example of interactive graphic recording because it's created purely from people's input. Below is a Knowledge Wall we created at an IBM Summit in Boston, where 500+ people attended 50 presentations and keynotes over two days.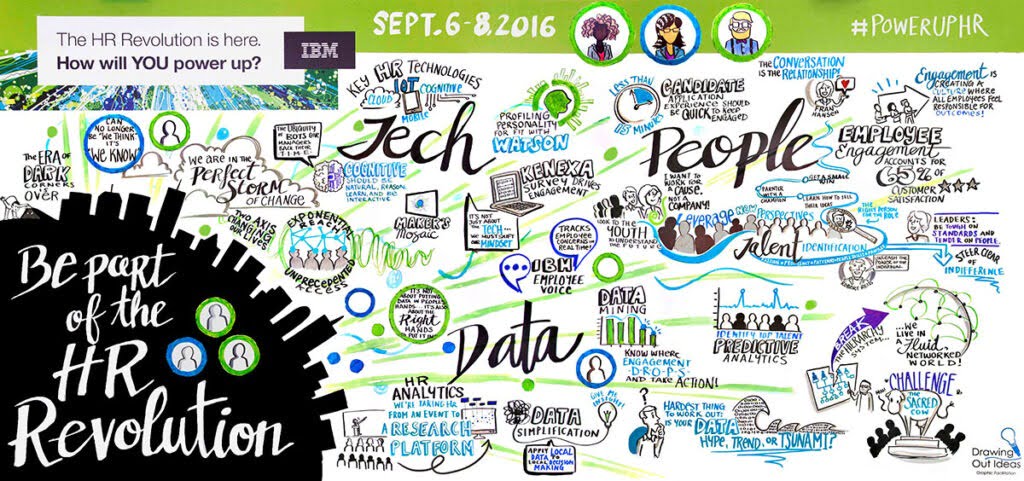 At IBM Interconnect, a 10,000+ person conference in Las Vegas, we designed a Talent Wall to map out people's ideas about their careers and technology. Using an IBM app on an iPad, participants answered a few questions about their career paths. The app sorted people into different categories: Advocate (pursuit of social impact), Adventurer (risk takers), Visionary (finds cost-effective solutions), and Match-Maker (excels at networking). We snapped polaroids of each person and added their insights to the graphic. Using the event hashtag, we drove engagement to the Talent Wall by posting photos on social media.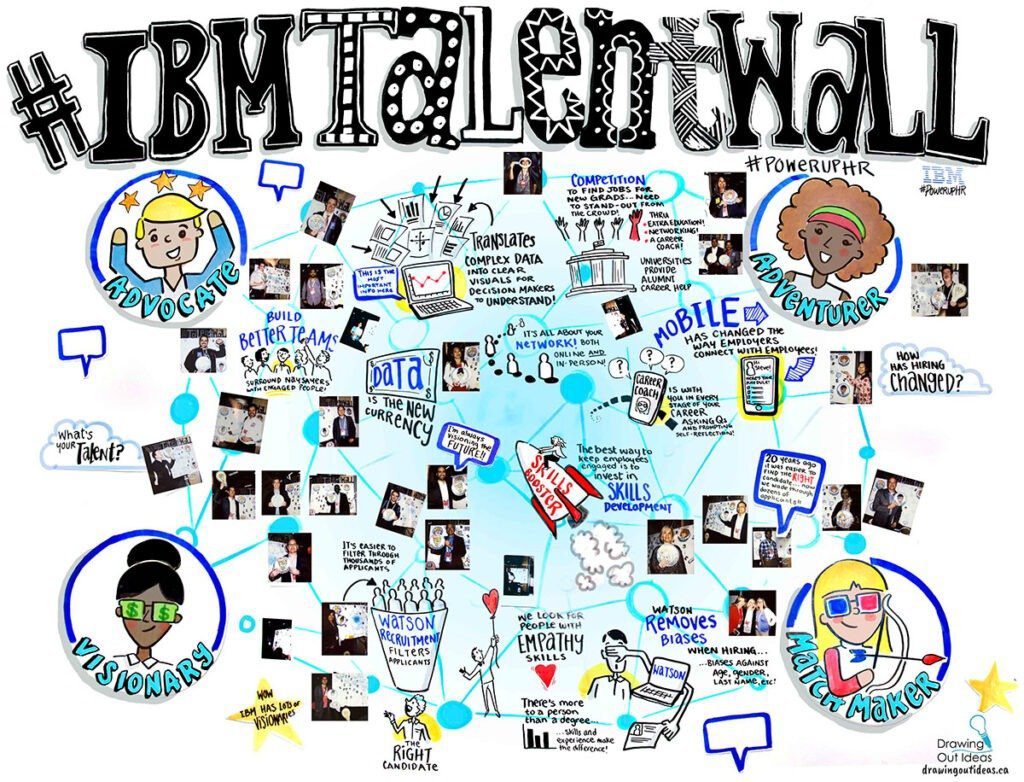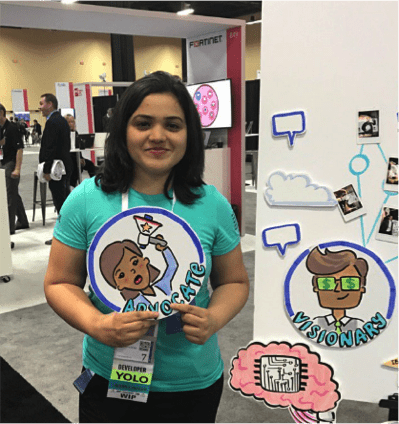 Participant at the talent wall matched to "Advocate" personality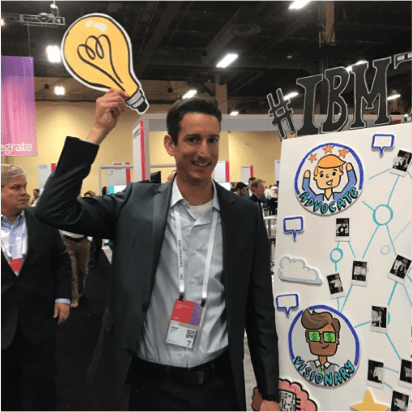 Participant at the talent wall with foam board icon
Visual Icebreakers
Although this isn't interactive graphic recording, visual icebreakers are a simple but highly effective way of opening up dialogue. A deck of photographs of different scenes / people / objects are spread out on the table. We ask participants a question (i.e."what's your hope for today?") and have them spend a couple of minutes sifting through the images to choose one that speaks to them. We do a quick round table introduction (either as a large group, or in smaller groups) with each person briefly explaining why they chose their image. It can be pretty remarkable what people come up with and really helps set the tone for the day. We've used this visual icebreaker at sessions for Fortune 500 companies, non-profits, and Indigenous communities…. so it works no matter the organization or culture. Below are excerpts from our custom image deck, which can be tailored to each organization.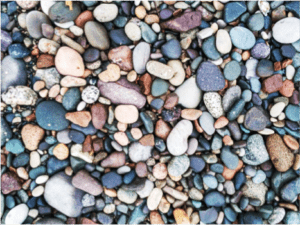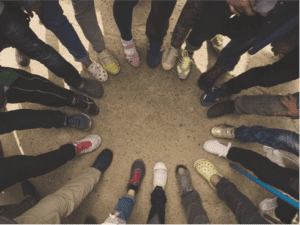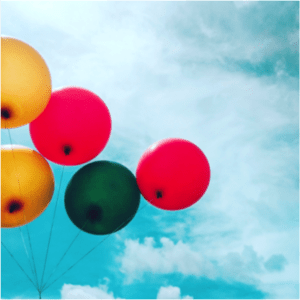 Making graphic recording interactive, and including other visual engagements, is a key part of ensuring graphics are well integrated with your conference and not just a fun "add-on." Interactive graphic recording makes a bigger impression on participants and is more inclusive of everyone's point of view. This is particularly effective when you're bringing together a diverse range of people. So when you're hiring a graphic recorder for your next conference, consider interactive graphic recording techniques to better engage your audience!