Graphic recording is a growing industry. Although it's been in use since the 1960s, in the last 15 years there has been an explosion of graphic recorders taking up the pen. Our international membership organization, the IFVP, has a global map of graphic recorders that's growing steadily year-to-year: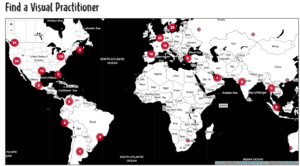 IFVP map showing graphic recorders around the world.
Many graphic recorders travel long distances for conferences. Often it's because we have a specific expertise, way of working, or a long-standing relationship with the client. But since there are more and more graphic recorders around the world, is travel always necessary? Beyond cost savings, what value can a local graphic recorder deliver compared to a non-local graphic recorder?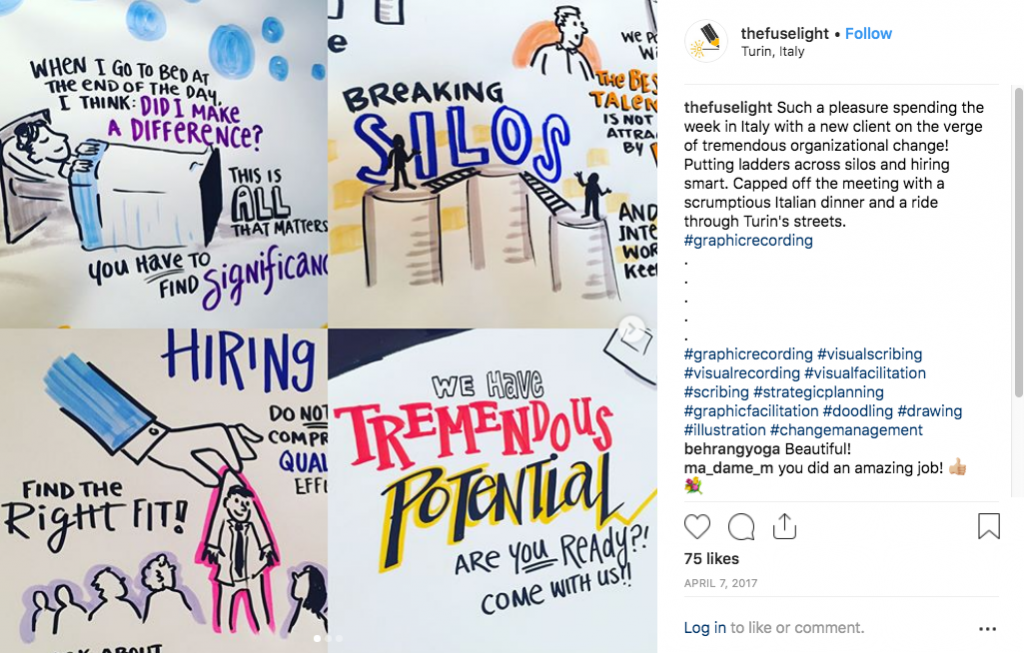 Live graphic recording at an Executive Summit in Turin, Italy.
We've expanded the Fuselight team to include graphic recorders based across North America and the world because it's important we offer our clients the right fit for a conference. There is value in working with locally based scribes, just as there is value working with someone non-local. (Our article on Finding the Right Fit in a Graphic Recorder outlines seven tips for narrowing down your search.)
How do we determine whether it's necessary to fly someone half way around the world to a conference, versus working with someone local?
Industry Expertise
Each graphic recorder on our team has an area of expertise. Some of us focus on health care and patient engagement, others have an environment and science background, and some of us prefer working in the engineering and technology field… to name just a few.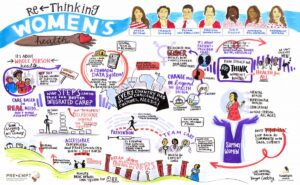 Industry experience is essential to moving quickly with a discussion and understanding terminology. For example, a graphic recorder that has worked for years in health care might have a wide-ranging knowledge base. From vaccines, community health, policy issues, health care technology, emergency medicine… all this knowledge will enhance the graphic recorder's ability to make connections between ideas and grasp the bigger picture.
If a graphic recorder has a long-standing relationship with a client, that can also be considered an "expertise." The client knows exactly what to expect from the graphic recorder, and the graphic recorder understands the nuances of collaborating with the client and their work culture. The graphic recorder can anticipate the client's needs and make informed suggestions on what would work best for visually facilitating the meeting.
Unique Skills & Experience
Some of us can digitally graphic record on projection screens of all sizes (from standard to super wide), others excel at using powerful visual templates to guide group work, facilitating group discussions on short notice, or mapping out complex patient journeys.
If there is a specific skill set needed at a conference, it's worth it to bring in someone who has experience. They'll be able to handle unexpected hiccups or offer solutions that are based on years of working in these environments.
Issues connecting the digital graphic recording to a projection screen? An experienced digital scribe will have a range of connectivity options and backup solutions.
Facilitation approach not working for a group? An experienced group facilitator has a repertoire of techniques to get people back on track.
Professionalism is another key piece that comes with experience. A graphic recorder who has been doing this work full time for years will have processes in place to ensure quality service for the client. Detailed contracts, communication on deliverables, thorough preparation, professionalism in the space, and a clear plan for post-conference use of the graphics…. these all contribute to quality service.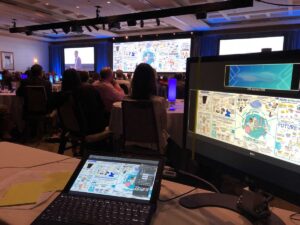 Digital Graphic Recording at a conference requires strong technical knowledge and troubleshooting.
Style of Illustration
Some people will resonate more with lively and playful images, others prefer minimal illustration and more refined or figurative graphics. (Our article on Styles of Graphic Recording outlines this in more detail.)
It's important the graphics engage conference participants and align with the culture of communication in the space. How concepts are organized and visualized has an impact on people connecting with the visuals and using them after the meeting.
For example, some of our work with engineers is highly technical. These folks appreciate accurate images of their products, structured diagrams, and clean text. On the other hand, our work at high-energy motivational conferences requires a big, bold style to the graphics, and lots of playfulness and humour.
Playful and energetic graphic recording by Yolanda Liman: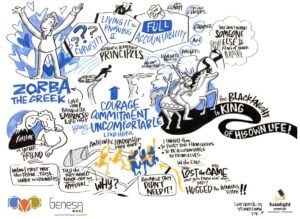 Below: This client preferred organized icons and structured text. Graphic recording by Tanya Gadsby (confidential info blurred)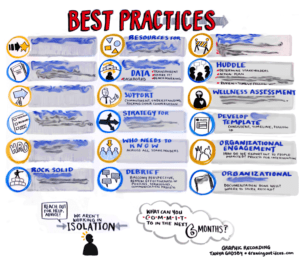 If we use a style of graphics that doesn't align with the energy and culture of a conference, people are less likely to review the visuals, take photos, or use the graphics after the conference.
Graphic recorders each have their own illustration style, and some are more flexible to adjusting their style than others. It's important to align the visual approach with what will best engage your audience, and this may mean sourcing someone non-local.
Local Knowledge
Local knowledge is more than knowing the geography of a city or state, or what can be researched about a company online. It is knowledge inherit to living and working in a specific environment and culture.
Every community, company or organization, province or country has a unique culture. From how a company operates, to what images are considered powerful vs. those that are considered cliché, to how government policy works, to the sense of humour, communication style, language use…. and right down to knowing the logistics of what's needed in a conference space and how to source supplies.
A graphic recorder local to an area will naturally have a deep understanding of these things, and it will come through in their work, how they're able to engage with participants, and their ability to represent concepts authentic to the local culture. This is why Fuselight has expanded to include a core network of scribes in specific locales across Canada, and globally. These are people we trust and know can deliver a standard of service we're proud of, and they have valuable local knowledge.
Carbon Footprint
Air travel emissions have a tremendous impact on the environment. It is one of the worst forms of travel for the climate. As graphic recorders who use recycled paper and refillable ink pens, it would be hypocritical of us not to scrutinize our choices on air travel.
A recent study by the University of British Columbia looked at the impacts of air travel and identified conferences as one of the primary reasons UBC faculty and researchers are travelling by air. The study also outlines ways to mitigate the impact of air travel (booking economy class, flying direct as much as possible, buying carbon offsets, etc.), but these only have a minor impact on the carbon footprint.
Until we have electric or battery operated planes, we have a responsibility to be honest about when we're able to deliver value at a conference that requires air travel, versus when the conference would be just as well served by a local graphic recorder.
Furthermore, the carbon footprint of in-person conferences is not good for the environment. However, in-person conferences may become a thing of the past with improvements in virtual meetings. The virtual reality space could be the answer to reducing conference costs and environmental impact, if platforms become more immersive and realistic.
Fuselight is expanding into virtual reality and mixed reality (where the graphics exist in the conference room, and not in a separate virtual environment) through platforms like HTC Vive, Google Tilt Brush, and exploring augmented reality options.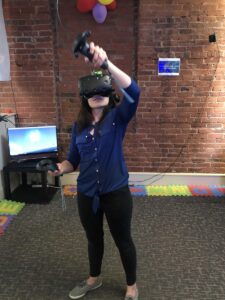 Tanya experimenting with Virtual Reality Graphic Recording.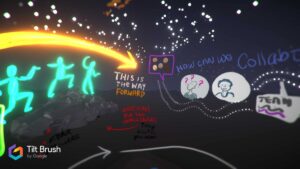 Risks
There are of course more risks involved with travel: lost bags, lost shipments of paper or supplies, stuck at borders, delayed or cancelled flights, inability to see the event space until the day prior… these all must be weighed when considering if travel is worth it.
If we have to travel for a conference, we always organize back up plans — alternate graphic recorders who can step up if there are travel delays; options for materials locally if bags are lost or paper shipments don't make it. These things can add stress and complexity to a job, so it's something we always consider when choosing to travel.
Energy
Travelling great distances for a conference saps a graphic recorder's energy, and this can impact the quality of graphic recording and the value a graphic recorder can deliver.
When travel is justified, members of Fuselight often arrive a day or two early to adjust to the time zone and ensure we are well rested. The extra time also serves as a buffer against travel delays, lost bags, etc.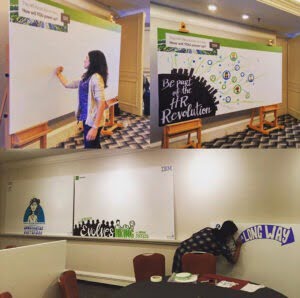 Tanya Gadsby and Minh Ngo preparing graphics the day before a meeting in Boston, USA.
Cost of Graphic Recorder
And of course, there is a big difference in travel cost between a local and non-local graphic recorder. Rates will also vary depending on the person's experience level. However, when considering the right fit for a conference, you will get the most value for money if the graphic recorder brings important skills and experience. This may mean bringing in an outside graphic recorder, or finding a local graphic recorder who might have the right skill set in addition to local knowledge.
But if cost is the only factor when deciding on a graphic recorder, maybe it's best to think about why you want graphic recording at the meeting (is it even needed? is it just a fun "add on"?), and whether there's an opportunity for it to have a bigger impact than being "just a pretty picture."
I've certainly put in air miles to graphic record at conferences as far away as Italy. And although international travel is a privilege (and a great joy!), over the last nine years I've become very selective about what conferences I travel for. Considering what's right for the client, the conference, and the climate is just good business.