Minh Ngo comes from a research and teaching background, and also brings a playful approach to graphic recording and visual communication. Drawing on her diverse experience working in the private, public and non-profit sector, she enjoys the challenge of helping organizations cut through the clutter with visuals that spark a connection between people, ideas, and their greater purpose. Always one to go with the flow and quick with a smile, she's a joy to work with and we're so excited to have her on the team!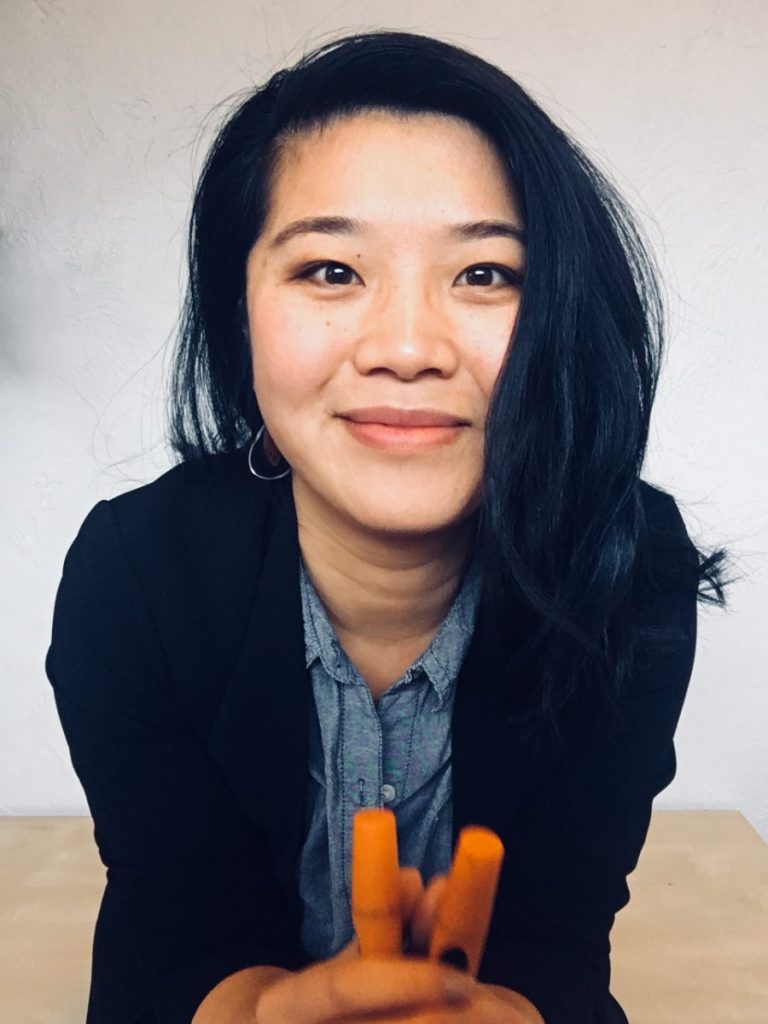 Where did you grow up and what places have you lived?
I spent the better part of my childhood in East Vancouver and caught the travel bug pretty early on. I've had the good fortune of being able to live and work in Toronto and Ottawa as well as overseas in the Philippines, Germany and Indonesia. I'm a true believer that home is where the heart is!
What is your education background and how did you get your start in graphic recording?
I studied agriculture and environmental studies in university. I got my start in graphic recording during graduate school when I began exploring and experimenting with visual thinking applications for research, science communication, and education.
What do you enjoy most about graphic recording?
My favourite thing about graphic recording is how it can change the dynamics of a room, a conversation. I often think about why, and am confident that the power of the graphic recording is not just about the graphic recording itself but the fact that people can see we are taking the time to listen and learn. And it's especially effective at including all voices and perspectives, not just the loudest in the room.
How did you and Tanya meet?
We found each other through the International Forum of Visual Practitioners, our industry's membership organization! Tanya was browsing the>global directory and she noticed I was a new listing in Victoria. She emailed asking if we could meet for coffee and we had great fun chatting about graphic recording, gardening, and our dogs. Soon after we were collaborating on projects and brainstorming creative solutions for events and meetings!
What do you like about being on The Fuselight Creative team?
It's so wonderful to be a part of a team and know that you have trusted colleagues who will lend their ear, hand and markers in a pinch. In a field where it's not uncommon to be working on your own a lot, it's so valuable to be able to bounce ideas with a colleague, keep things fresh and get critical feedback to help take a project from good… to great!
What has been your favourite project to work on with us?
Each one is so unique and one of a kind that it's hard to just pick one. I'd say my favourite projects to work on are the ones where clients step just a little bit out of their comfort zone and challenge us to do our best work. I also really enjoy translating scientific studies, technical data, or instructions into infographics and illustrations. There's a huge need for translating scientific research and data into clear concepts and visuals for decisions makers, funders, and the broader public to understand…. especially in today's age of misinformation!
What do you hope to explore next with graphic recording / graphic facilitation?
Organizational training and development is an exciting area that I see having a lot of potential applications for graphic recording and graphic facilitation. There's also growing demand for digital graphic recording for a growing digital environment in terms of online webinars, summits, and conferences. Travel budgets are getting tighter, and as technology becomes more and more intuitive, people will come together virtually rather than always in-person. Digital graphic recording can help create a more engaging experience and "break the fourth wall" of the computer screen!
Finally, who would your dog be if he was human?
I think Arlo would be one of those crazy surfers, surfing waves along the Pacific North West all year around. He loves being outside and exploring!