Leslie Teixeira is our project manager extraordinaire! She joined the Fuselight team in 2015 to set up our smooth system of operations for animations, graphic recording, and infographics. But we hired her primarily for her personality — she's eager to solve problems, friendly and professional, and stays on top of all our projects! Outside the office, she's passionate about baseball and can be found at the ball diamond most evenings. Find out more about her background and what inspires her about our work…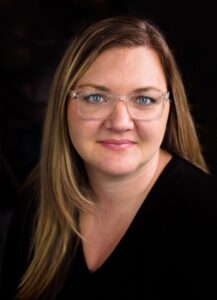 Where did you grow up and what places have you lived and travelled?
I grew up in Coquitlam, BC. I travelled to Italy in Grade 10 with school – my first trip outside of Canada – and threw my coin in the Trevi Fountain, so I'm waiting for the day I'll return!
What's your background / experience / education?
I've worked in administration since I was 17. I've experienced government agencies, corporations, health industry, education, and more. I like to stay on top of new innovations in the virtual assistant world — last year I attended the International Association of Virtual Assistants Live Summit. I love to learn and want to be in a position that challenges me. If I've mastered something I know it's time to move on to the next adventure and learn something new!
How did you and Tanya meet?
Tanya (Creative Director of the Fuselight team) and I met when she was searching for a virtual assistant in 2015. At the time Tanya was overwhelmed by inquiries for new projects on top of juggling a huge roster of clients. After a Skype interview, we felt we'd be a good fit in terms of personality and professionalism. I came on board to help out with invoicing, keeping projects on track, and following up with clients before/during/after a project. We've always worked virtually (I'm based in Vancouver) and didn't meet in person until earlier this year!
What's your favourite part of being on the Fuselight team?
Well, obviously my amazing teammates! But, second favourite would be creating systems and strategies to maximize our efficiency. Because animations are an 8-10 week production, it's important target dates are set for rounds of revision and feedback, and that we're communicating with the client clearly and regularly throughout the project. We also work to ensure graphic recording is integrated with each conference we attend, and because each conference is unique, this requires thorough planning and communication ahead of time to ensure we're tailoring our approach. I love managing projects in the "background" to ensure everything runs smoothly!
What's your top choice for project management software?
The Fuselight team uses Asana to manage almost all areas of the business, not just our projects (administrative reminders, SOPs, inquiries, etc). It's my favourite because I'm most familiar with it, however, I don't believe it's the specific software product that's important, but the fact that we actually use one. Because we work virtually and on many projects simultaneously, utilizing project management software is a necessity!
What has been your favourite project to work on with us?
This is such a hard question as I'm always in awe of Tanya's & Minh's talent, but I have to say any project for our Indigenous clients have a special place in my heart. Canada has a long way to go in reconciliation, and I'm hopeful that the projects we collaborate on are a small part of moving us forward, especially as there is a huge gap in our school curriculum on Indigenous histories in Canada. I could watch and listen to the NCIED IdeaFest animation for hours.
What excites you about graphic recording / graphic facilitation?
I get excited about the lasting impact these drawings create for very important topics. Often thoughts or concepts are forgotten in meetings or not even heard by everyone in the room, but graphic recording ensures all sides are heard and then reflected on. Graphic recording heightens the significance of a meeting – and that's exciting!
In terms of how I fit into the process, I enjoy coordinating behind the scenes to ensure our team has everything they need to "hit the ball out of the park" when graphic recording at an event. This means I stay on top of agendas, help source information so the team can do research into the client's topics ahead of time, and ensure the digital versions of the graphic recordings are sent to the client within 24 hrs after the event. We want graphic recording to ignite a fuse of inspiration, and that's only possible if the team can customize their work to deliver a truly unique experience for the client.
Who would your dog be if she were human?
If Peanut were a human she'd be the smallest kid on the team with the most points. This dog has no clue she's a little Chihuahua cross and prefers to hang with the big dogs.