Prezi has grown immensely since it first emerged in 2008. I started using Prezi in 2010 when I was working in health care to help explain different aspects of community health and the importance of the patient's voice. Since then, Prezi has evolved into a true powerhouse presentation software and I'm excited to offer custom illustrated Prezi presentations as part of my services.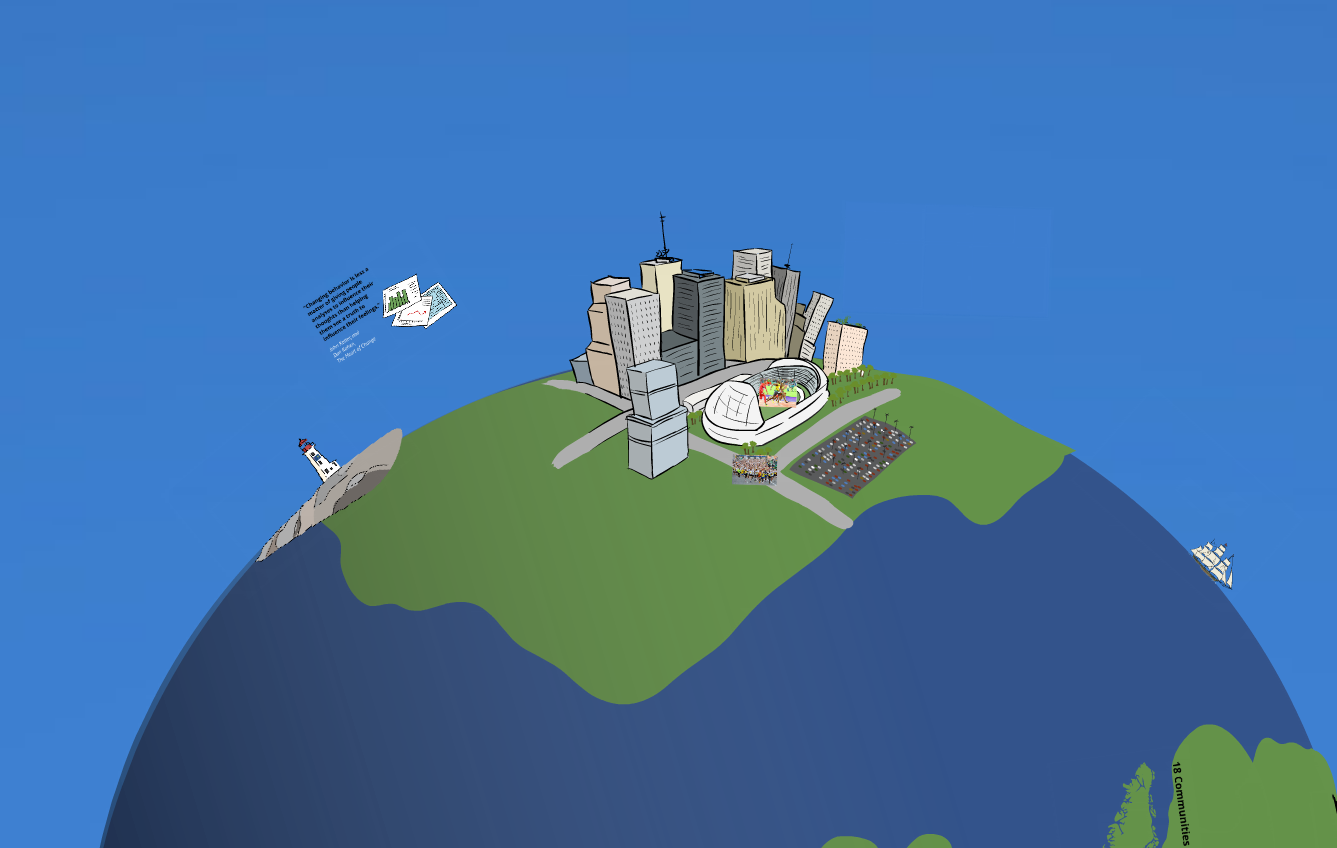 What's the advantage of custom illustrated Prezis?
Well, for one thing, we can design the Prezi to your specific needs. Each organization is unique, and using stock images isn't a true representation of an organization's essence. Not only can I illustrate anything you want, but we can design the Prezi so that it has the most impact with your audience and truly boosts your presentation to the next level. The Prezi shouldn't be so overly designed that it's distracting… nor should it be so simple that it's no different than Power Point!
Prezi is best used when it visually takes the audience on a journey and serves to enhance your speaking points. And best of all, you'll stand out from the crowd at conferences – even from other presenters using Prezi! A well illustrated Prezi is eye-catching, dynamic, and really captures the unique aspects of your topic.
Big picture view vs. smaller details
The most common mistake I see in other Prezi presentations is the over-utilization of the zoom & movement function. It's so crucial that zoom is only used when necessary and not just as a "fun party trick!" The zooming capabilities are great for showing different layers to a topic.
For example, if your presentation is on city planning, you can start with the big picture (like the city on the globe above) and talk about the impact of pollution on the atmosphere, then zoom in to talk about urban sprawl; zoom in further to show the impacts of traffic on certain intersections; and zoom further still to talk about how cracks on the sidewalk will expand and cause damage. This is obviously a simplified example of how Prezi can take the viewer on a journey; it's especially powerful for complex topics that have many details.
Prezi and graphic recording
Prezi is fantastic for walking through graphic recordings – text can also be added to elaborate on certain parts of the graphic recording, the zoom function can be used to delve deeper into different subjects, and the Prezi can easily be shared among colleagues who might not have attended the meeting. It's a great way to "animate" a graphic recording and further bring on-going value to meetings or conferences well after they are finished.
Publishing your Prezi
Prezi can be embedded on websites just like a video — voice over and music can even be included. Furthermore, you can create different versions of the Prezi for different presentations — all the custom illustrations are yours to manipulate and organize how you see fit!