A case study explores the details behind what went into a project, the challenges, approach, results, and what could be improved for next time. The live illustration we created at the Calgary Stampede is a good example of how to use interactive graphic recording at a large scale event. This case study gives a behind-the-scenes look at our planning, design process, and how the graphic recording had a lasting impact at the event.
The Calgary Stampede is one of the world's largest rodeos and attracts upwards of 1.2 million people during the course of ten days in July. But it's not only about the rodeo! There are exhibits on all aspects of agriculture – from chickens to growing veggies to sheering sheep. Many of the attendees are tourists from around the world, some of whom have little knowledge about agriculture in Canada.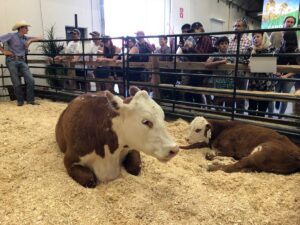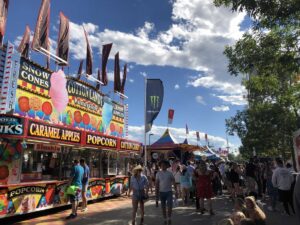 The Brief
The Calgary Stampede reached out to us earlier this year about the possibility of an interactive graphic recording. The goal was to get people at Stampede asking questions about agriculture, and specifically "Agri-Food," which is the production of food by farming. The client wanted to see the vast spread of questions people were asking about their food – from production to processing to retail. It was also important to identify the most common questions that adults, children, and youth were asking.
Over the course of two 8-hour days, the graphic artist would illustrate a large graphic (approx. 15ft in length) with questions and ideas about Agri-Food from people stopping by the wall.
We specialize at interactive graphic recording, so this project was a good match for our background. We've integrated interactive graphic recording at a wide range of events, including large-scale conferences (12,000-15,000+ attendees) for IBM across the US and Canada.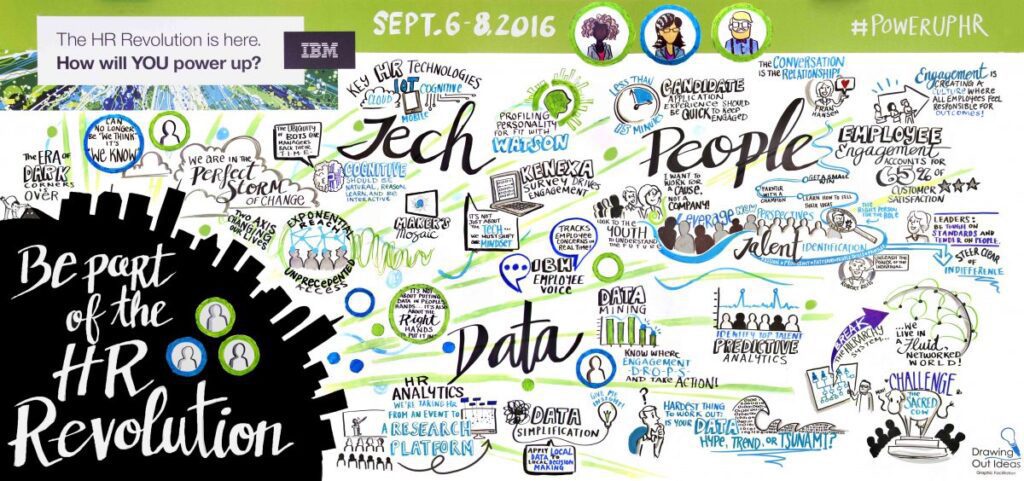 Knowledge Wall created at IBM Summit in Boston, USA.
The Challenge
The Stampede is packed with events, booths, shows, and upwards of 120,000 people per day. The main challenge would be in grabbing people's attention so they would stop and ask questions. This could be challenging when people are busy moving from show to show, and not necessarily in a "learning" mindset.
Furthermore, because there would only be one graphic recorder on site, there had to be options for people to share ideas if the graphic recorder was busy speaking with someone else.
The Approach
We started by speaking with the client to understand the goals, budget, and how they wanted to engage people. They reviewed our article on Interactive Graphic Recording and we agreed that a "Knowledge Wall" format would work best (or in this case, a "Question / Idea Wall").
We also identified the best style of graphics for the setting and audience:
Highly Visual – engaging illustrations and bold words help bridge language barriers and facilitate understanding of concepts. We planned to weave humour throughout the piece to further delight and attract people, and encourage photo-taking.
Big Layout & Bold Colours – so the graphic is visible from a distance and attracts people to the wall. We determined a 15ft length so we could work big! Calgary Stampede brand colours were our primary palette.
Bold Title – also visible from a distance, and asks the main question: "What Are Your Questions About Agri-Food?"
Agriculture Facts and Stats – sprinkled throughout the graphic to inform people and prompt questions.
Post It Notes – for people to write their ideas / questions if the graphic recorder is otherwise engaged, or for introverts who prefer to write their thoughts.
From these initial discussions and research into Agri-Food, we developed a rough sketch of a layout for a 15ft wall: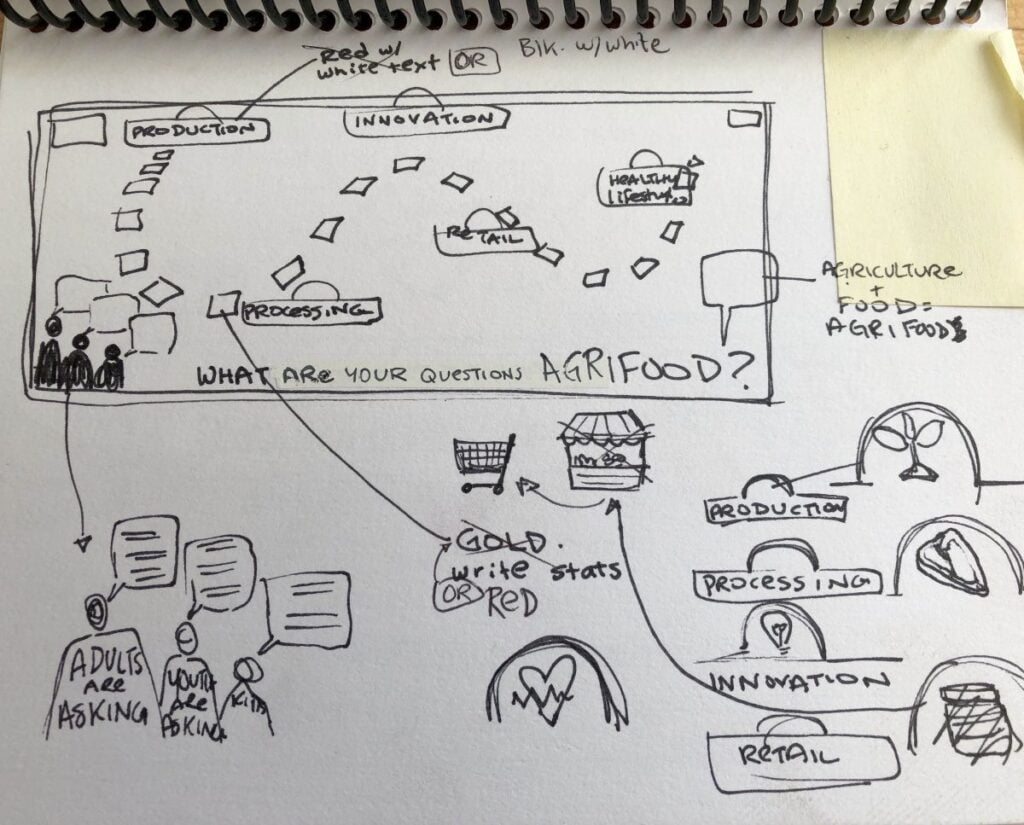 Early planning for the Calgary Stampede graphic recording, including possible icons, content placement and order, colour choices, and rough map.[/caption]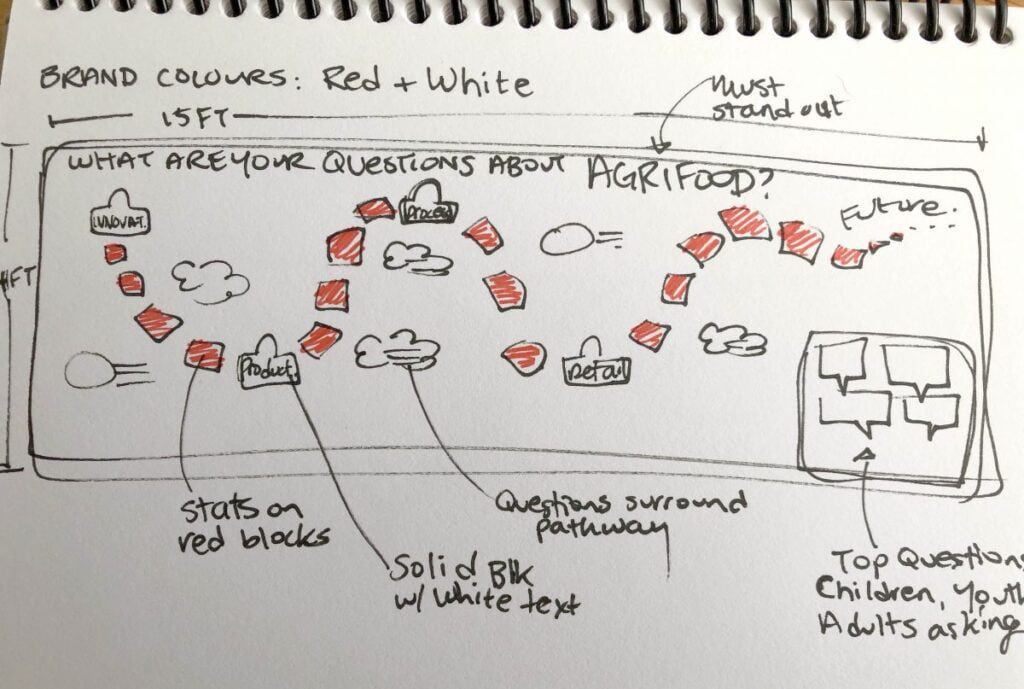 Close to final draft of Calgary Stampede graphic recording layout and plan, including final colour choices, image and content layout, and chart sizing.
The Results & Benefits
The Calgary Stampede graphic recording had a tremendous impact on people. Not only because of the bold style and engaging graphics, but many of the facts about agriculture caused people to stop in their tracks, ask further questions, or review the rest of the graphic. Key elements that improved engagement:
Research into Agriculture
We are big believers in researching our clients and their topics ahead of a conference. This helps us better understand concepts, utilize images that are authentic to the client's industry, and so we can quickly make connections between ideas, or ask people deeper questions.
Because I was the only graphic recorder at the wall, I was the primary person fielding all sorts of questions about agriculture. "Do brown hens lay brown eggs?" "How much land is used for wheat vs. barley?" "What's the most common farm equipment?" "What is pasta made from?"
Since I'd read up on Canadian agriculture and food production ahead of time, I was better able to provide answers on the spot. This helped deepen conversations with people, and resulted in better questions coming up. My mother's side of the family are farmers in Saskatchewan, and this also gave me a good knowledge base. If someone had very specific questions about agriculture that I couldn't answer, I pointed them to nearby booths and experts that could.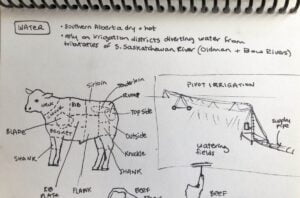 Research into agriculture, preparation of key facts for the graphic, and understanding of content was key to creating an authentic interactive experience for attendees of the Calgary Stampede.
Placement in the Space
The wall was set up in a high-traffic area in the Agriculture Zone, which had booths on all aspects of agriculture – from dairy production to crop management. People flowed past on the way to shows and animal exhibits. The volume of people stopping by the wall was key to capturing a plethora of ideas and questions.
Small Surprises
The "AGRI-FOOD" letters were real photos of agriculture, printed on sticker paper. The letter shapes were cut out and seamlessly transferred onto the wall. The title stood out from a distance, but also delighted people when they got up close and saw the detailed scenes. Many people asked if they could touch the letters!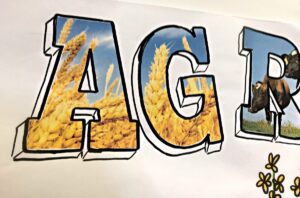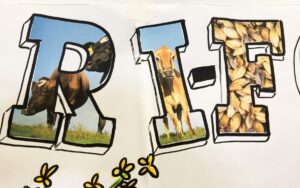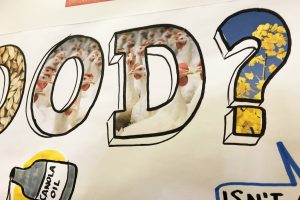 Inserting lesser-known facts throughout the graphic, along with humorous scenes, also helped catch people's attention. "Edu-tainment" is a very real part of learning!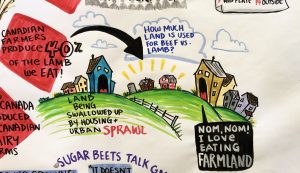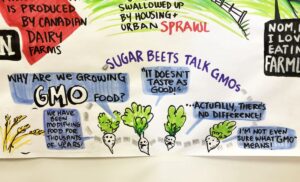 Signage
A foam board sandwich sign helped explain what the wall was about, and invited people to share their questions or ideas on agriculture.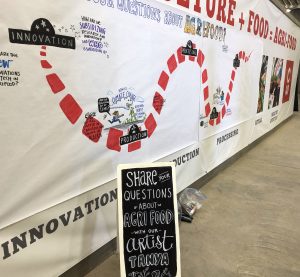 Foam board sign set up at the graphic recording wall to invite people to stop and share questions or ideas.


Social Media
Throughout the two days, we shared excerpts from the wall on social media with the Calgary Stampede hashtags. This helped spread awareness about the wall, and many people stopped by multiple times to see how the wall had evolved.
Instagram: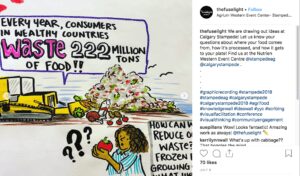 Twitter: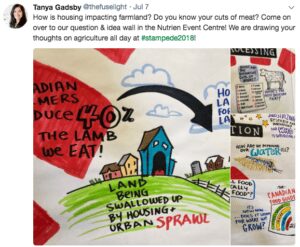 Asking questions when posting excerpts from the graphic further engaged people online and encouraged them to stop by the wall.
Dressing the Part
It's important that a graphic recorder fits seamlessly into a conference or event. Attendees need to feel comfortable approaching the graphic recorder, asking questions, or sharing what they feel needs to be added or changed in the graphic. Part of this is helped by how we present ourselves. At corporate conferences, we wear suits. At community workshops we might dress business casual, or even casual if it will help attendees feel more comfortable. This was the first time for Western wear, and it helped project an approachable "Stampede" look!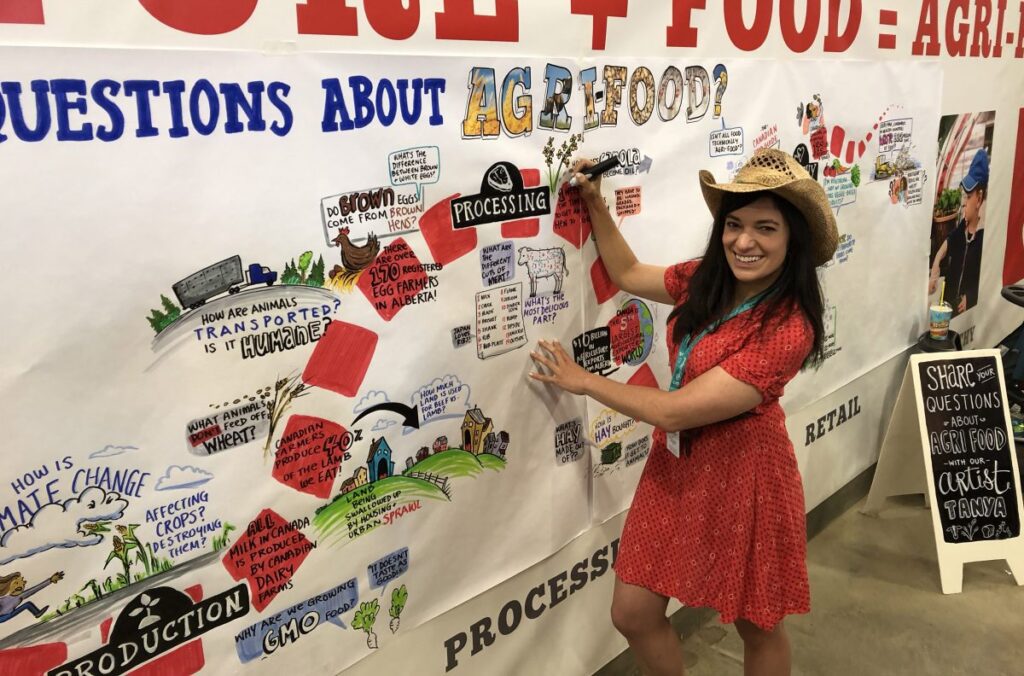 Tanya Gadsby, graphic recorder at the Calgary Stampede.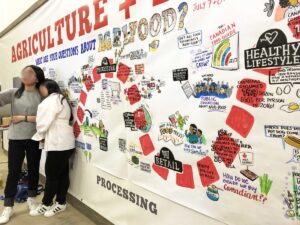 People stopping to take selfies at the graphic recording.
The Final Graphic Recording
The Calgary Stampede graphic recording was photographed on site in 24 sections and stitched together in Photoshop to produce one high-resolution image. The client intends to print the graphic recording on a large vinyl banner for use at various events and workshops. It will also be displayed at the 2019 Stampede to show the questions asked the previous year and see how people's questions shift year-to-year.
Click the image to view a higher resolution version.

Walk-through of the Calgary Stampede Graphic Recording
What We'd Do Differently Next Time
Case studies should have an analysis of what could be improved for next time. No project is ever 100% perfect! Even though the Question Wall was really well received and captured questions and ideas accurately (and most of all, the client was thrilled!), there are some adjustments we'd make for next time:
Placement
Ideal placement is a key part of graphic recording — whether scribing a keynote at a large conference, or setting up an interactive graphic recording. Often the challenge is being placed in a high-visibility area; sometimes the graphic recorder is tucked away in a dark corner.
So it's rare to have the opposite problem — being in an area with too much traffic! But when a rodeo show was happening nearby, there were hundreds of people flowing past the wall. This made it challenging to have conversations, and there was limited elbowroom to draw (thankfully it got crowded only a couple of times during the day). Shifting the wall set up to a slightly less high-traffic area, but one that still has considerable visibility and people passing by, would provide more breathing room.


Experts
Sometimes people had more complex or detailed questions. It would have been great to have an expert at the wall to answer them, as some folks didn't want to walk to nearby booths for answers. This could easily be solved by having a few experts taking turns rotating past the wall.
Client Testimonial
I contacted Tanya in May of 2018 about interactive graphic recording. We wanted to engage just shy of 1.3 million guests in conversation about where their food comes from. This would allow the Calgary Stampede to monitor what questions and/or concerns guests have about agri-food, and build educational showcases answering many of the most common questions.
Working with Fuselight Creative was a seamless process! Tanya was very flexible to work with and met each task with a positive attitude and open mind. She put obvious time and effort into learning about agriculture. It was truly a key contributing factor to the success of the Calgary Stampede's live art project. Tanya's graphic recording was eye catching and encouraged guests to ask thought provoking questions about where their food comes from. I highly recommend Fuselight Creative for any of your graphic recording needs!
– Mackenzie Argent, Western Events & Agriculture, Calgary Stampede