What's in a name? A lot, it turns out!
We've been in operation since 2010 as Drawing Out Ideas. Over the years our core team has grown to include, Leslie, our project coordinator, and Minh, another graphic recorder and animator. We've also built up an extended team of graphic recorders who exemplify our values.
And on April 10, 2018 we officially re-launched as Fuselight. Why did we make this change? Drawing Out Ideas didn't fully fit our work anymore. Over the last nine years we've had the pleasure of collaborating on some incredible projects. We show up at each one with openness, humility, and as team players.
Whether it's exploring augmented reality, designing unique interactive Knowledge Walls, integrating Indigenous languages on the graphics, producing animations that are engaging and unique to a client's story, digital graphic recording on massive 50ft screens, or journey mapping complex pathways through health care and data systems… all of this is much more than just "drawing out ideas."
It's important to put a stake in the ground for what you stand for as a company and your work. Words like drawing, sketching, visuals, ideas, ink, are not unique company names in our industry, nor do they embody our vision for our work.
"Drawing Out Ideas" was more of a tagline than a brand name. It quite literally described graphic recording. If a name is too descriptive, it's easy for clients to confuse you with other similarly named companies, and we discovered this was happening with our clients.
So in 2017 we decided it was time for a change.
The Hunt for a Name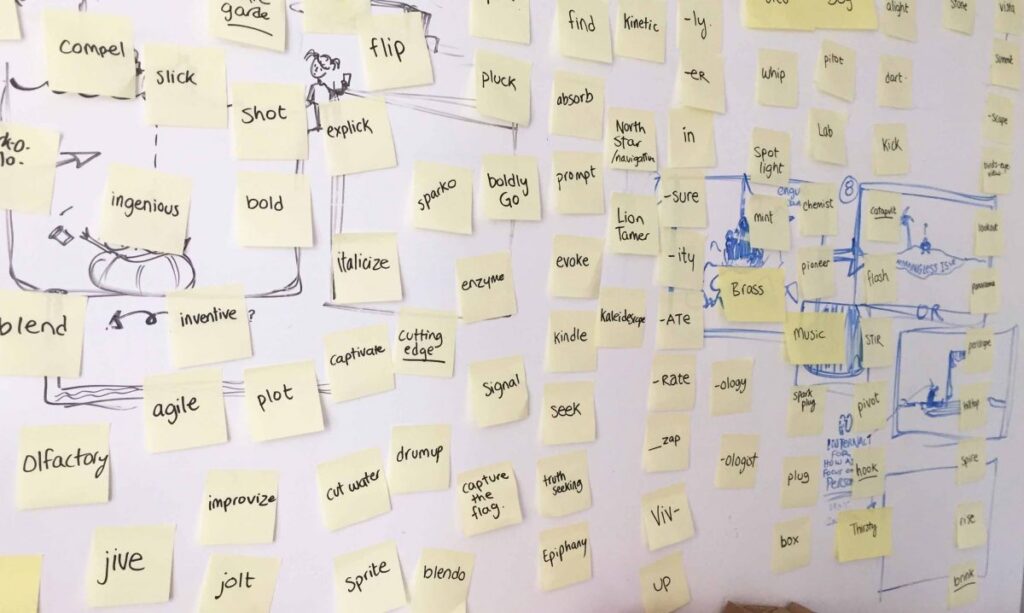 The summer of 2017 was a summer of words. I scoured through dictionaries and thesauruses, collecting words on sticky notes and rearranging them on a wall into different combinations.
Each name that was short-listed had to be put through a test:
➜ What feeling does it evoke? Is it aligned with our vision and values?
➜ Is the name distinct enough? Is it too descriptive?
➜ Is the name short and memorable?
➜ Is it already in use by another company in the creative field? (graphic design, animation, etc.)
➜ Is the domain name available? (doesn't have to be an exact match — adding "the" or "we are" before the brand name is common due to domain name shortages)
➜ Does the name limit us to one type of service? A name should allow you the flexibility to grow and shift your business.
This was a long process of testing and retesting names, and at times it was exhausting. In the end, I focused on articulating the vision and purpose behind our work, out of which I hoped a name would reveal itself.
Our Vision & Values
Many of our clients are struggling with uncertainty and big challenges: climate change and environmental collapse, decolonization, technology and automation, privilege and inequity, changing approaches to health care….
Uncertainty can feel cold, dark, and terrifying.
I grew up in Iqaluit, Nunavut and the Yukon where the long winters can feel cold, dark, and terrifying. A warm fire was always the antidote to the cold – fires in wood stoves, and bon fires outside on New Year's Eve.
Fires circle people together, provide warmth, and light the way in the dark. All fires start from something small – a spark, a strike of a match, a little "fuselight" that grows into something bigger. This is the essence of what I want to achieve with our visual services: to be the fuselight that ignites ideas, mobilizes people, and maps out a path to the future.
Our vision: Igniting ideas. We ignite ideas through our values, which are woven through every aspect of our work, from initial consult to final feedback. Find out more about our Vision & Values here.
Trademarking
Trademarking isn't a "must-have" when changing your business name. However, if you're not sure how far you want your business to grow, trademarking helps protect the brand, especially in growing industries.
Maybe you'll develop a facilitation product for purchase under the brand name, or offer a workshop series, or publish a successful resource book… there are so many avenues a business might expand into. If your name is too descriptive or common in your industry (like Drawing Out Ideas), it won't be as memorable for consumers, and it's unlikely you'll be able to trademark it.
After finding our new name, we worked with a trademark lawyer to start the registration process, which takes about 15 months. The trademark lawyer handles all the paperwork and also does a thorough search of NUANS (Newly Updated Automated Name Search), which is a search system that compares a proposed name with databases of existing corporate names and trademarks. This is important for ensuring your name isn't already trademarked by another corporation offering similar services.
Web Design
[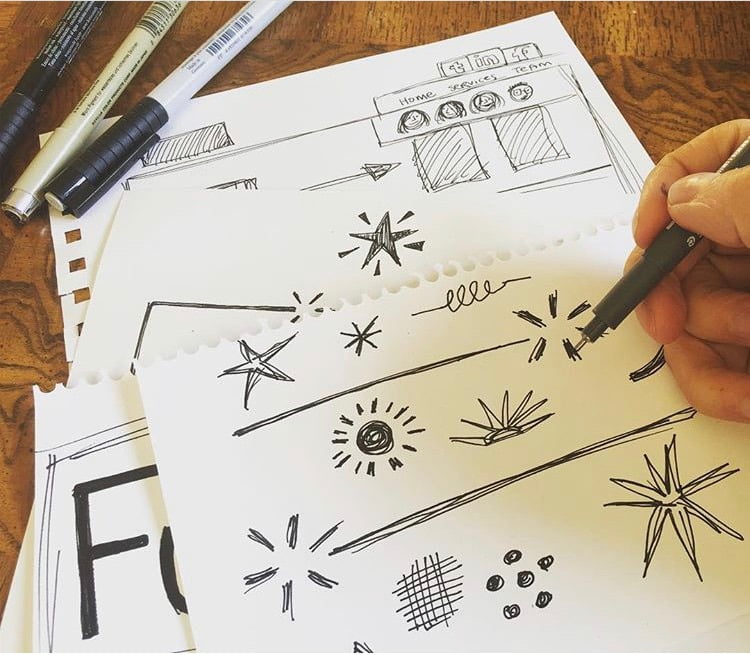 Sketching website plan and theme designs
Our current website at the time (drawingoutideas.ca) ranked pretty well in Google searches, and many of our clients had linked to it on their websites. So we wanted to maintain that value by redirecting drawingoutideas.ca and all its sub-pages, blog posts, and images to our new domain (this is called a 301 redirect). We also wanted to completely revamp the design and feel of the website and add new features and content.
If you're considering a re-design of your site, it's important to find a web team you can trust and who can handle redirecting an old site to a new one if you're transitioning to a new domain. You get what you pay for when it comes to web design and support, but it's one of the most important investments you can make for marketing your business. We were thrilled to find White Design Lab, a team based in Kamloops, BC, and offering quality design and support.
Social Media
As soon as we selected Fuselight for a name, we reserved social media handles on Twitter and Instagram. Facebook was the more challenging page to change, as they require you to submit a name change request, and it takes time to process.
After selecting a date for the re-launch (April 10, 2018), we laid out a social media strategy with target dates leading up to the launch, a plan for launch day, and a post-launch schedule. This included:
➜ pre-written social media posts,
➜ a count-down of our top projects over the years,
➜ a little animation announcing our name change,
➜ and a series of articles ready for publishing in the weeks after the launch.
Excerpts from our video countdown on Instagram:
View this post on Instagram
View this post on Instagram
All of this helped build awareness with our followers that a name change was coming. We also revised our signature block on emails so current clients wouldn't be surprised by the switch:
We emailed our long-standing clients personally to notify them of the change and that this wouldn't affect our services.


Incorporation
Drawing Out Ideas was a sole proprietorship long overdue to incorporate, so it only made sense to set up Fuselight as a corporation. Incorporation has many benefits: the company is its own entity, corporate taxes are lower, and the company can have employees and share holders.
Of course, there is more paperwork with incorporation – it's best to have an accountant help set up the tax side of things, a lawyer to handle the legal paperwork, and a bookkeeper to assist with the accounts (particularly if you have a lot of transactions, US / Canada / international currencies, and sub-contractors).
Materials
Finally, we revised all our materials – contracts, information sheets, workshop handbooks, visual templates, business cards… everything had to be changed to the new brand guidelines, logo, and colour codes for consistency.
In total, the rebrand took about eight months. I'm still finding sticky notes of nouns and adjectives in various corners of my office – testament to how much time and deep thinking is required in branding! But the process is well worth it to have a name that's unique, and a brand your team can get behind.