You've got a big conference coming up and want to have a graphic recorder capture presentations and group discussions. Finding the right graphic recorder is important for ensuring the graphics are well integrated with your meeting, appropriate to your content, and that you're getting the most out of your investment. Whether it's your first, second, or third time hiring a graphic recorder, follow these seven tips for finding the right graphic recorder!
Know where to look
Most graphic recorders have an online presence, however there is a bit of variation in how we describe ourselves. Below are a few key terms in our industry that may help in your Google search:
graphic recording & graphic facilitation (the most common terminology)
visual recording & visual facilitation
scribing / visual scribe
sketchnoting (this is usually on a small scale in a sketch book)
live illustration / live scribing
Our membership organization, the International Forum of Visual Practitioners (IFVP), also has a global directory of graphic recorders.
In addition to Google and directory searches, reach out to colleagues in your industry who may have used graphic recording in the past and ask for recommendations and feedback on their experience. If you contact a graphic recorder and he or she is not available, ask for a recommendation on who to contact next. Our industry is small and most of us can make a thoughtful recommendation!
What does the meeting need? How is it structured?
This is the most important aspect in finding the right fit. What does your conference need most? Is it the "wow" factor of big visuals to grab attention? Or are you planning on having intensive breakout group work with specific objectives? How do you plan to use the graphics in the meeting and afterward? Graphic recording can be integrated at a conference in a variety of ways. So before starting your search for a graphic recorder, identify what will best serve your conference's needs.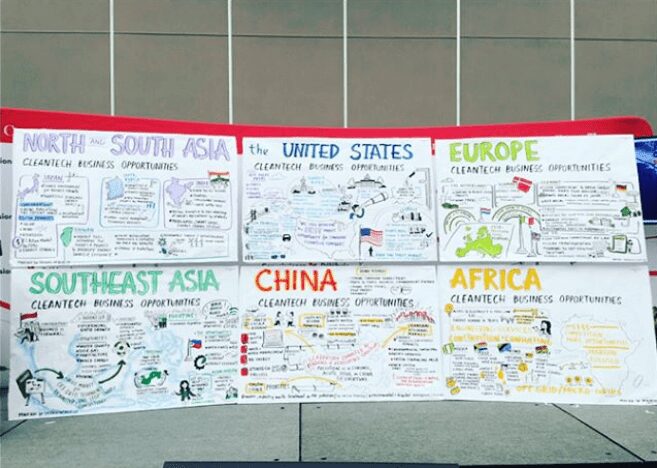 Multiple graphic recordings from a fast-paced conference of back-to-back presentations.
Experience Level
Try to find a graphic recorder that has specific experience in your industry, as this makes a big difference in their understanding of concepts being discussed in the meeting, and their ability to adjust their approach to meet your needs. Many graphic recorders specialize in certain industries or types of meetings. For example, my areas of expertise are: health care, patient journey mapping / system mapping, and strategic planning.
In addition, a graphic recorder with years of experience is better able to make suggestions about what will work best at your conference. On the other hand, a less experienced graphic recorder may be the right fit if you need straight-forward graphic recording (the "wow" element at a conference).
Research to Understand Your Organization
Even if a graphic recorder has specific experience in your industry, they will likely do a bit of research ahead of your conference to ensure they're freshly informed on your discussion topics. See this article on why this is an important part of a graphic recorder's preparation: Research & Cultural Sensitivity.
If you want the graphics to be appropriate to your industry (and not composed of cliched images or metaphors), it may also be worth finding a graphic recorder who tailors their style to your organization. For example, some organizations embrace fun and playful metaphors…. others prefer a clean and tidy graphic style, with less playfulness. This article explains the process of identifying an organization's preferred style: Different Visual Languages of Graphic Recording.
Services Offered
Graphic recorders have different ways of working. Some of us do very little preparation ahead of time, and simply show up on the meeting day, graphic record, and leave. Others will consult with you ahead of the meeting to review the agenda, understand your objectives, and also provide post-conference services such as digital versions of the graphic recordings, edits to the graphic recordings, and further consultation on how to utilize the graphics afterward.
Also consider whether the graphic recorder offers a full suite of visual services – such as animations, infographics, or other visual design services. If there's any chance your organization will need these services in future, it's a better use of your time to build an on-going relationship with someone who has this capacity, has intimate knowledge of your organization, and can keep the visual style cohesive.
Personality & Approach
A graphic recorder who is out-going and fun would be a great fit at a conference where you want to gather attendees' ideas and capture them in one large graphic recording. This person will naturally engage with people and get them to open up.
[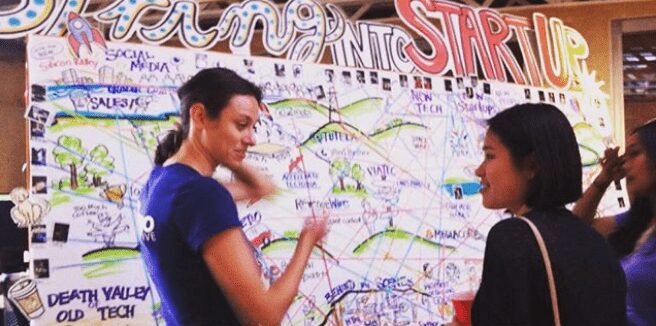 An engagement wall at a conference is a great way of getting attendees interacting with the graphics!
A graphic recorder who is professional, thorough in their preparation, and transparent about how they work would be an excellent fit at a more complex conference with multiple breakout sessions. They'll plan an approach that will enhance the conference objectives and may even draw up rough sketches of what that might look like.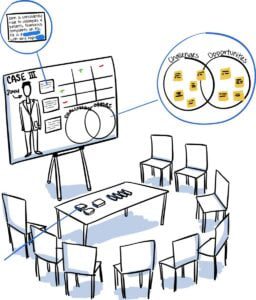 This is a mock up of how interactive graphics will be used in a breakout group at a large conference. (identifying information is masked out or removed)
Also consider "how will the graphic recorder present themselves?" Will they show up to your conference in jeans and a t-shirt? This might be ok for an informal community meeting… not so much if it's a business conference, especially as the graphic recorder is often positioned at the front of the room.
Finally, is this person flexible in their approach? Will they be open to attendees letting them know if they captured something incorrectly? Are they ready to adjust to last-minute changes in the agenda? Or do they view graphic recording as a standalone piece that cannot be edited? Finding the right graphic recorder to work with, both in personality and skill set, makes a huge difference in the success of the graphics in a meeting.
The cost of hiring a graphic recorder varies depending on the graphic recorder's experience level, the length and complexity of your meeting, and whether the graphic recorder is able to work within tighter budgets. Keep in mind that, as with any industry, you do get what you pay for!
Some of our previous clients have had experiences with graphic recorders in the past and felt that graphic recording was a "nice add-on" to their conference, a lovely piece of art to look at, but there lacked a deeper engagement with conference participants. This is why it can be a better use of your budget to bring in a graphic recorder who has specific expertise in you industry, tailors their approach to match your conference, and includes ways of engaging participants or incorporating their feedback.
If you cannot find a graphic recorder local to your area, it may require extra room in the budget for travel expenses… however, it's well worth it to ensure graphic recording enhances the conference rather than serving as a "show piece." If you're working under a tight timeline, a more experienced graphic recorder can usually offer the same level of service whether they're hired two months ahead of time, or two weeks ahead of time.
Finding the right graphic recorder is important — but keep in mind that one organization's "right fit" might be completely different from another's. However, if you keep the above items in mind during your search, you'll be informed on what to look for, and more likely to find a graphic recorder who will align seamlessly into your conference!