Haida Gwaii is a clutch of islands off the coast of BC. It's a place of towering totems, endless beaches, and a people who have deep roots and an unwavering passion for these islands.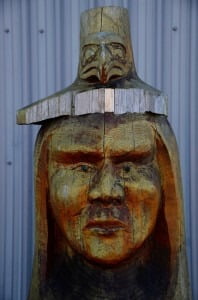 I lived on Haida Gwaii as a baby — it was where I first came to Canada from New Zealand. The only memory I have is of digging for clams with a plastic shovel on a wide stretch of beach … not a bad introduction to life in Canada!
I've made two trips to Haida Gwaii this summer to graphic record for a group helping to plan the future of these islands. The group consists of people from a variety of backgrounds — Haida, non-Haida, new residents, and those who've lived there for decades. With so many points of view, the graphic recordings anchored the discussion and really helped open people's minds to new perspectives. By the end of our first workshop, the walls were covered with graphic recordings — a tangible record of the work being done.
"We're headed in the right direction — just look at where we've come and where we're going now," someone remarked while viewing the historical map we'd created.
Graphic recording is a powerful tool when you're bringing together stakeholders with different perspectives — it's a valuable anchor if the group loses focus or starts down a tangential path. Differing opinions are shown side-by-side. Complex ideas are visualized, and therefore recalled more easily.
The work on Haida Gwaii is still on-going, but one of the best parts of my job is when I can continue to help a group plan their way forward, especially during times of great change!